Isle of Man TT 2014: Conor Cummins joins Jackson Racing
Last updated on .From the section Motorsport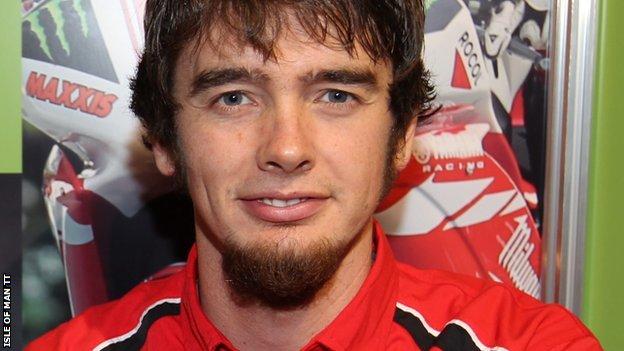 Isle of Man TT star Conor Cummins has signed with Jackson Racing for the 2014 Supersport campaign.
The 27-year-old will compete in the 600cc races at the Isle of Man TT, North West 200 and Ulster Grand Prix.
Cummins, the quickest Manx racer in TT history, said: "I'm confident we can challenge for honours in the class."
He will also race for Honda Legends alongside in the Superbike and Supersport events at the TT, from 24 May to 6 June.
Jackson Racing has been a continuous presence in motorcycling paddocks since the 1970s when Alan Jackson Sr won three consecutive World Formula Two Championships and four TT victories.
His son Alan, the current team owner, said: "Conor is a talented rider who has shown incredible determination to put himself back at the front of the field.
"He will be one of the frontrunners in every class he competes in and we are delighted to have him on board."
Cummins, who has fought his way back from a career-threatening crash at the 2010 TT, said: "What the Jackson family don't know about road racing isn't worth knowing.
"I'm really looking forward to representing them."