Formula E: Does it have a future in a world dominated by F1?
By Saj Chowdhury
BBC Sport
Last updated on .From the section Motorsport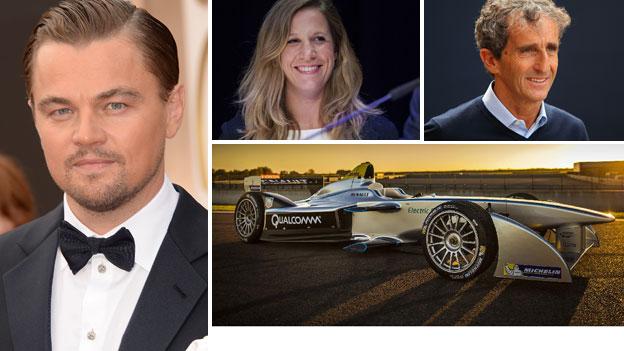 Formula E: electric dream or a dead battery?
On Saturday, motorsport will take a significant step into the world of fully-electric racing.
Backed by governing body, the FIA, the initial 10-race season begins in Beijing and finishes in London in June 2015.
Here is our guide to a brand new racing series with a Hollywood actor for a team boss and a chance for you to influence the outcome of a race.
Surely that sparked your attention...
So what's the idea behind Formula E then?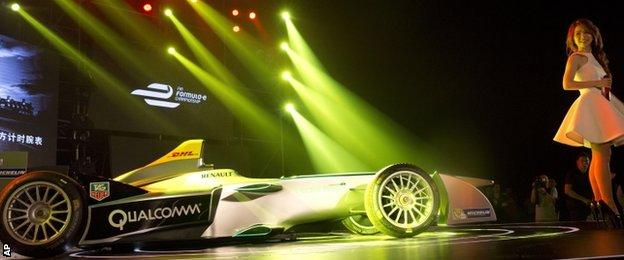 It's threefold according to the website - "to help develop electric vehicle technology, accelerate interest and promote sustainability".
FIA president Jean Todt first floated the concept back in 2011 before Spaniard Alejandro Agag - a successful businessman in Formula 1 and motorsport - took charge of the project. You might remember him from his time as chairman of Queens Park Rangers football club. Or not.
"Am I a man with a good record? I can't complain. But this is a big risk," he told BBC Sport.
"It's a pioneering effort. Nobody has done this before. We are at the beginning of this type of technology - the beginning of a concept.
"It will take 10, 20, maybe 30 years to end with combustion. Every pioneering effort is risky, but it's part of the challenge."
The one-hour races will take place on the streets of 10 cities around the world - although they are looking for a replacement for Rio - and will feature gimmicks that will likely leave a traditionalist coiled inside a Bridgestone tyre.
Has Agag done a good job so far?
Think of George Clooney's character in Ocean's Eleven - the guy who had the charisma and magnetism to attract the best.
The 43-year-old has managed to bring on board ex-F1 world champion Alain Prost, motorsport royalty Mario and Michael Andretti, Sir Richard Branson's Virgin brand and, speaking of Hollywood and leading men, Leonardo DiCaprio.
He has helped land broadcasting deals with ITV and BT Sport in Britain, while Fox Sports and China's main sports channel have also bought the rights.
Agag has also convinced cities to give up their streets to host the day-long event - the Beijing race is being held around the Olympic 'bird's nest' stadium, while in London cars will race around Battersea Park. Four of the races will take place in the Americas.
The Spaniard has also invested some of the $100m (£60m) to kickstart the project - so no doubt he's keen to see sparks fly.
The 2014-15 race calendar

13 September

Beijing, China - Olympic Park

22 November

Putrajaya, Malaysia - Persiaran Perdana

13 December

Punta del Este, Uruguay - Playa Brava Beach

10 January

Buenos Aires, Argentina - Puerto Madero

14 February

TBC - previously Rio

14 March

Miami, USA - circuit to be confirmed

4 April

Long Beach California, USA - Long Beach

9 May

Monte Carlo, Monaco - circuit to be confirmed

30 May

Berlin, Germany - circuit to be confirmed

27 June

London, UK - Battersea Park
Wait a sec... Leonardo DiCaprio?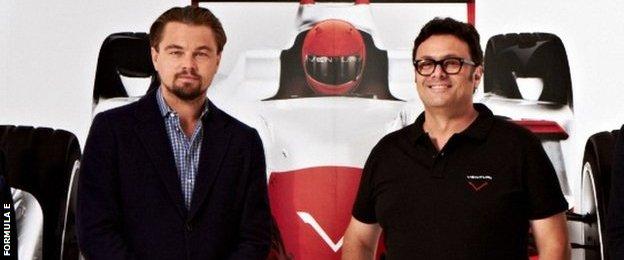 Yes, the Wolf of Wall Street has been lured by Formula E. The actor is a keen environmental campaigner, and now the co-founder of Monaco-based team Venturi.
Four-time F1 World Champion Prost, meanwhile, is leading the e.dams-Renault team. In total, there are 10 teams competing in the first season, each car having the same technical specifications.
"I am committed to it. We have a team. I'm a co-owner," Prost, whose son Nicholas races in his team, told BBC Sport.
"I wanted to do it this way otherwise I'm not interested. I want to compete and win. I want to see how we can develop things - I'm curious.
"If you make the same thing on a normal race track with same format as F1 it is not going to work. We have to do it the way we do it - always in cities, short tracks. The fans will be very different to the ones who go to Silverstone."
Formula E teams and drivers

Amlin Aguri

Katherine Legge and Takuma Sato

Andretti

Franck Montagny and Charles Pic

Audi Sport

Lucas di Grassi and Daniel Abt

China Racing

Nelson Piquet and Ho-Pin Tung

Dragon Racing

Oriol Servia and Jerome d'Ambrosio

e.dams Renault

Nicolas Prost and Sebastien Buemi

Mahindra Racing

Karun Chandhok and Bruno Senna

Trulli

Jarno Trulli and Michela Cerruti

Venturi

Nick Heidfeld and Stephane Sarrazin

Virgin Racing

Jaime Alguersuari and Sam Bird
The same spec?! It sounds like the failed A1 GP...
The FIA is hoping Formula E doesn't go the way of A1 GP - that was country v country in identical specification cars, in an attempt to promote a level playing field for competitors - but lasted for only four full seasons before going into liquidation.
Formula E teams will all be given the same Spark-Renault SRT 01E car for the first season, but it will be an 'open' championship from the second season, which will allow teams to develop their own cars - within FIA guidelines. The hope is some of this technology could also be passed on to the manufacturers of electric road vehicles.
"We look at A1 - it had great backing, an interesting concept and didn't make it," Agag told BBC Sport.
"We think we are different. We aren't competing with Formula 1. This is different technology, we have our own niche. F1 is big, massive and the pinnacle of technology. In a way, our technology is a child of F1 - our transmissions come from McLaren and our batteries come from Williams.
"There is no competing, we are complementary. We have a good chance to make it."
Right. What about the cars? Do they take AA batteries?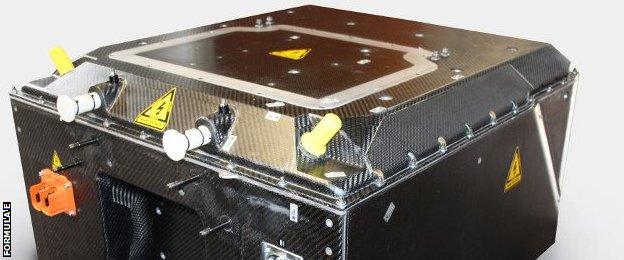 There are no AA batteries, but instead there is a specially developed battery, courtesy of the Williams F1 team, that supplies enough power to the car for about half the race.
That's right - half the race. They have yet to develop a battery that can provide enough power to last a full race. So the two drivers in each team will have two cars for each race - the 'pit stop' will involved jumping into another car, as demonstrated by China Racing's Nelson Piquet on his Instagram account.
'Change the batteries like the rest of us have to in the TV remote, we hear you say.' It's seen as impractical this season, although they are working on implementing wireless recharging during races in the future. Regarding swapping batteries - that's deemed as dangerous.
How fast can these cars go? And what do they sound like?
The inevitable question on speed. The cars aren't as fast as their Formula 1 counterparts - they could make 150mph compared to F1, where speeds of 200mph are common. But with the drivers racing on twisty street circuits, the difference might not be as noticeable.
The sound? It's a bit like a plane taking off. They reach about 80 decibels, which is a 10dB louder than a street car travelling at 70mph. There was a stink about the noise of F1 cars dropping from 145dB to 134dB this year, so it will be interesting to see how spectators react.
Hmmm. You mentioned gimmicks during the race, what exactly?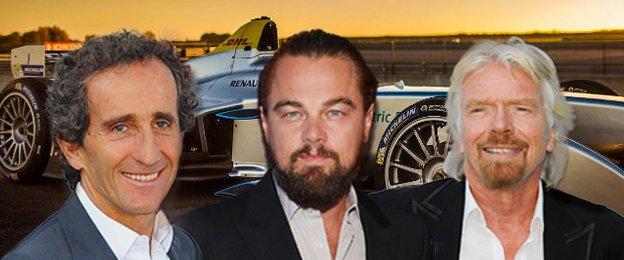 Ready for this? As alluded to above, part of Formula E's mission statement is to attract a new and younger audience.
"F1 is for people over 40. This is going to be good for sponsors and the constructors," added Prost.
So what the organisers have done is added 'fun' elements.
Practice, qualifying and the race will all happen on one day. So to immerse fans into the world of Formula E they will play music during the event and have a 'fanboost', where three drivers with the most social media votes will have the power of their cars increased from 133kw to 200kw prior to the race so that they can use a 'boost' of 90hp during the proceedings.
"I think the Formula E audience will bring in something new," Trulli team's Michela Cerruti told BBC Sport.
"When you are in the centre of the city and there are big cars - it's hard not to stop and watch it. It'll bring in a new audience that don't want to watch motorsport in general."
So how will they measure success? Is the FIA committed to the project?
"I'm sure we are going to see after two or three races how works. It will develop race after race. I don't want to put any target on it," says Prost.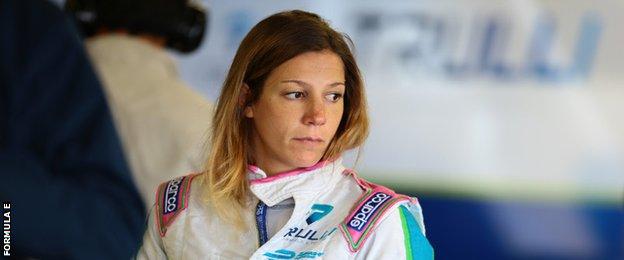 FIA chief Todt, who will be in China's capital this weekend, suggested that the new addition to motorsport's calendar would be allowed to mature.
"Formula E is just beginning, and it is necessary to carefully examine the first season to see what works and what does not work," he said.
"We believe we have created a framework to support the positive evolution of the series over many years, notably in opening gradually the competition between engine and battery suppliers."
So, there you have it. The FIA believes in it, the teams and drivers believe in it - but will the public?