TT 2014: Practice red flagged after Laurent Hoffman crash
Last updated on .From the section Motorsport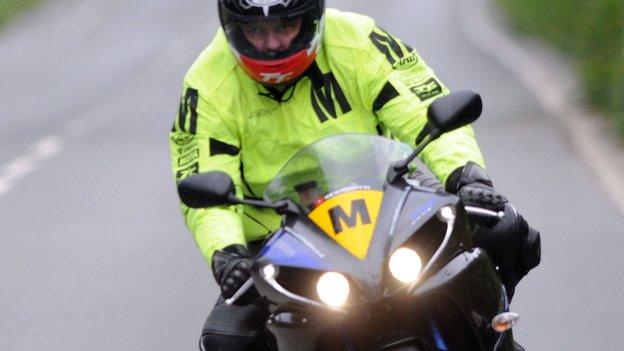 A crash involving Belgian rider Laurent Hoffman in poor weather brought the third TT practice session to a premature end on Wednesday.
The session was red-flagged after Hoffman came off his machine near Barregarrow and he was airlifted to hospital with reported leg injuries.
Most solo riders completed one lap before the accident, with Michael Dunlop quickest on his BMW Superbike.
Last year's four-time winner was clocked at 128.690 mph.
Tyco Suzuki's Guy Martin also topped 128 mph, with William Dunlop next quickest at 127.911, while Dean Harrison posted his best of the week at 126.521 mph.
Peter Hickman was again the quickest newcomer with 117.895 mph, followed by Martin Jessop at 115.607 mph.
Isle of Man racer Conor Cummins completed the quickest lap of the session on a Superstock machine at 126.268 mph and Bruce Anstey topped the Supersport timesheet at 123.127 mph.
Most riders were setting off on their second lap when the session was brought to an end.
No lap times were recorded by the sidecars, but practice will continue on Thursday.