TT 2014: Mark Higgins sets TT car record
Last updated on .From the section Motorsport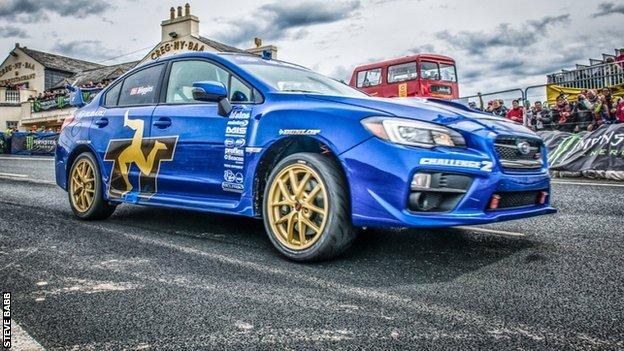 Manx rally driver Mark Higgins has beaten his own record for the fastest lap of the TT course in a car.
The three-time British Rally champion completed a lap of the 37.75-mile (60.7km) course at an average speed of 117.510 mph in a 2015 Subaru WRX STI.
Higgins said: "As a Manxman I love the TT and I have a huge amount of respect for the TT riders and what they do.
"I am pleased to be inside the sidecar record and the record for electric bikes as well."
He set the record in a stock US specification 2015 WRX STI, with the exception of a roll-cage, race harness, fire suppression system and modified springs and dampers to handle the sustained high speeds of the course.
Subaru's Dominick Infante said: "The Isle of Man is paradise for anyone who appreciates motorsport and there is nothing like the TT road course anywhere else in the world."
His lap was completed in 19 minutes 15.888 seconds.