Le Mans 24 Hours: Harry Tincknell wins class for JOTA Sport
Last updated on .From the section Motorsport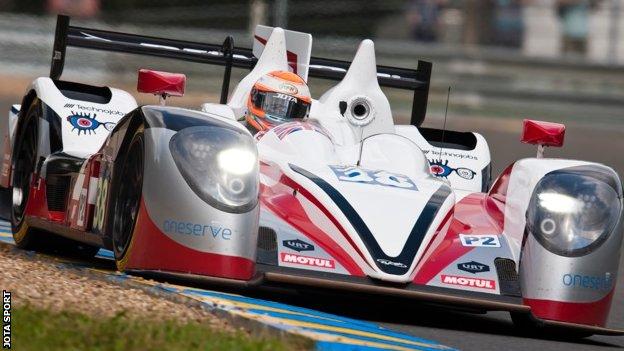 Devon's Harry Tincknell won his class and finished fifth overall in his first Le Mans 24 Hour race.
Tincknell and co-drivers Simon Dolan and Oliver Turvey guided their JOTA Sport Zytek Z11SN to victory in the LM P2 category, finishing a lap ahead of their nearest rivals in the class.
in the 82nd running of the race.
"To win at Le Mans on my debut is the biggest moment in my career to date," Tincknell said.
"I can't believe it, it's always been a dream."
The Sidmouth-based driver had steered his Nissan to second in his class in qualifying, just 0.065 seconds off taking top place in his category.
"Everything just flowed as a combination of 15 years of racing all for this one magical moment," Tincknell added.
"The weather conditions were really bad during the opening three hours and we were well down the leaderboard.
"But the team's strategy was to be around at the end of the race and not to be too aggressive with the car and we proved it to be the correct strategy."