Oliver Webb sees future in prototypes after Le Mans success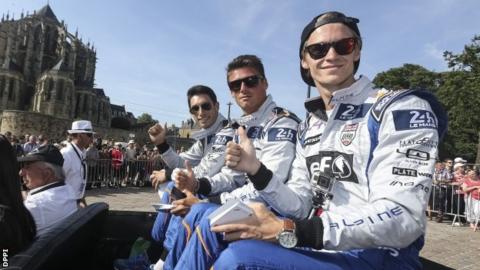 Oliver Webb says he expects to race prototype cars for a "long time" after a successful first appearance at the Le Mans 24-Hour race last weekend.
The 23-year-old from Cheshire was part of the Signatech-Alpine team that finished third in the LMP2 class and seventh overall.
Webb planned a career in Formula 1 but securing enough financial backing is key to him following that path.
"I think I'll be in prototype racing for quite a long time now," said Webb.
He told BBC Sport: "Hopefully I can make a good career out of it.
"If I get a contract from McLaren for a few million next year, I'm sure I'd sign up straight away, but I don't think that's going to happen."
Ex-Formula 1 drivers such as Mark Webber, Nick Heidfeld and Sebastien Buemi were in the field at Le Mans, with Audi trumphing for the 12th time in 14 years.
"I was at Monaco three weeks before racing in the World Series, a feeder series for Formula 1, and then to be heading to Le Mans - the world's most famous race - I was like a kid in a candy store," said Webb.
"To get a podium with the team was incredible."
Much of Webb's racing experience is in single-seater cars, previously competing in the British Formula 3 Championship and in the Indy Lights series, a development series for IndyCar, in America.
But his chances of reaching the very top will depend on bringing in significant funding.
He continued: "I've been on the way to Formula 1 my whole career and I've been lucky to have been backed by BMW and Mercedes on my way up.
"When we realised how much money we would have to bring in through sponsorship, we realised that even if we managed to get that, which I don't think we would have done, it could have just been one year in and one year out and maybe not with a very good team.
"I chose a different route, went to America for a year, and then got an offer of a contract in Le Mans Championship racing as a prototype driver. It's almost like another sport and I'm really happy to be involved in that side of it."
The Knutsford driver admits the scenario is "unfortunate" but accepts that having the financial backing is extremely important to be successful at the very top of the sport.
"If you play football, you can buy yourself a ball for £5 or £10 and go outside to have a kickabout in the garden and that's your practice for the day," he added.
"If we want to practice, we've got to fly 35 mechanics, two cars and a truck, and also hire a track - it's 35,000 euros (£28,000) a day to practice our sport.
"At the same time, if I owned a Formula 1 team, I would have to do the same thing. The money in research and development of the car will make the car go slightly quicker than maybe the guy who's a bit quicker around the track.
"You still have to have the talent, but money and backing does help, whereas in the prototype racing I'm now in, they do sign you up purely on talent, which is nice to see."