Sheriff to continue Tony Stewart fatal crash investigation
Last updated on .From the section Motorsport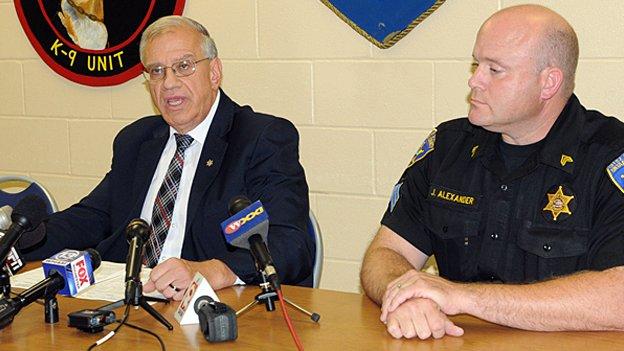 The investigation into the death of an American racing driver after he was hit by the car of three-time Nascar champion Tony Stewart has yet to uncover any "criminal behaviour".
Kevin Ward Jr, 20, got out of his car and was gesturing at Stewart when he was struck by the 43-year-old's car.
Authorities conducted a reconstruction of the crash on Monday.
Ontario County Sheriff Phil Povero said: "At this time, there are no facts that support any criminal behaviour."
He added that the ongoing investigation had also not uncovered any criminal "conduct or any probable cause of a criminal act".
"Officers working on the accident reconstruction also are making progress in evaluating the data that was retrieved at the crash scene on the race track, again on Saturday night into Sunday morning," said Povero.
Stewart has been interviewed, along with several other witnesses, while authorities have two videos of the collision.
"We are seeking persons familiar with racing that can help us review and analyse these tapes to hopefully fully understand the crash," added Povero.
The incident took place during a local sprint race at the Canandaigua circuit in New York. Ward had spun out on the previous lap after bumping cars with Stewart.

He then went on to the track and angrily pointed at Stewart before being hit.
American racing legend Mario Andretti, a former Formula 1 world champion, called the accident "a fluke".
"This was like a perfect storm," said the 74-year-old, who also claimed victories in the Indianapolis 500 and NASCAR's Daytona 500.
"You could look around and say this could have been avoided - yes, by everyone.
"It's tragic, but you can't fault the sport for it. This is something that happened and hopefully this will never, ever happen again."