The Dunlop motorcycling dynasty: Life, death and glory on the roads
Last updated on .From the section Motorsport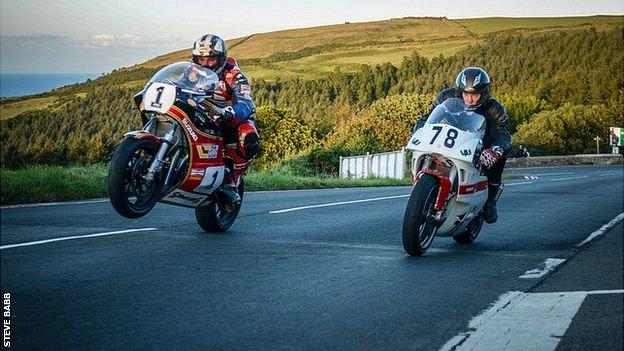 "You think it's never going to happen to you - you're always going to be the one who gets away with it." William Dunlop, road racer
Robert Dunlop didn't get away with it. Not this time. So here he is, dying on the side of a road. Just like older brother Joey, eight years earlier. Local heroes - united by blood, glory on two wheels and the violence of their endings.
Robert's sons William and Michael were riding behind their dad when his engine seized and he flew off the front of his bike. "I held his hand and prayed he'd be all right," says Michael. William spent the following night in his garage, tinkering with his machine, to make it go quicker.
Before the 2008 North West 200, one of the world's fastest road race meetings on Northern Ireland's north coast, Robert predicted a Dunlop victory in the race that killed him (Robert's fatal crash happened during 250cc practice). A day later, both his boys were back in the paddock - determined to ride, perhaps make their dad a prophet.
"I didn't go back out in memory of my dad, though, I did it because I wanted to race," William, who was 22 at the time, tells BBC Sport. "It sounds selfish, but that's just the way it is."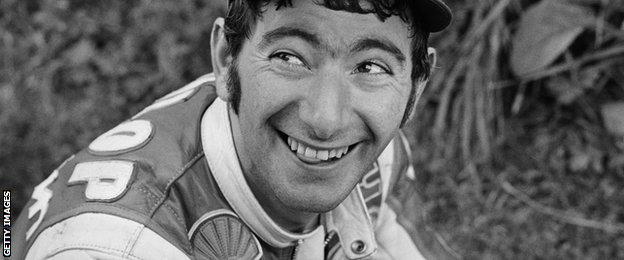 On race day proper, William's bike failed on the grid but Michael's grew wings. The day after taking the chequered flag amid wildly emotional scenes in Portstewart, Michael, 19, was shouldering his dad's coffin.
All this suffering, all this ecstasy, it's no wonder they made a film about it. Road, recently released on DVD and narrated by Liam Neeson, another of County Antrim's favourite sons, is heartbreaking, frightening, mysterious and not by Disney.
"It certainly shows the dark side," says William. "But when I watch it I don't see the sadness, it just makes me proud of what my father and uncle achieved."
Joey is the film's star and one of the least likely leading men in cinematic history. A shy, taciturn man who hated his fame, Joey made his life significantly more complicated than it might have been by winning a record 26 races at the Isle of Man TT and five world championships in a row in the 1980s. In Northern Ireland, he was as big as George Best.
The Dunlop dynasty - Victories in Isle of Man TT, North West 200 & Ulster Grand Prix

Joey Dunlop

Robert Dunlop

William Dunlop

Michael Dunlop

IOM TT: 26

IOM TT: 5

IOM TT: 0

IOM TT: 11

NW 200: 13

NW 200: 15

NW 200: 3

NW 200: 4

Ulster GP: 24

Ulster GP: 9

Ulster GP: 7

Ulster GP: 6
"He looked like a van driver," says Joey's former team-mate and fellow road racing legend John McGuinness. When Joey wasn't racing he was driving his van to Romania or Bosnia and handing out food to orphans, cameras not invited.
That Joey seemed permanently wreathed in the tragedy of others only made him seem more invincible by association.
At the 1979 North West, Joey lost his childhood friend Frank Kennedy. The following year, at the same event, Joey lost Mervyn Robinson, his brother-in-law and another member of the so-called 'Armoy Armada'.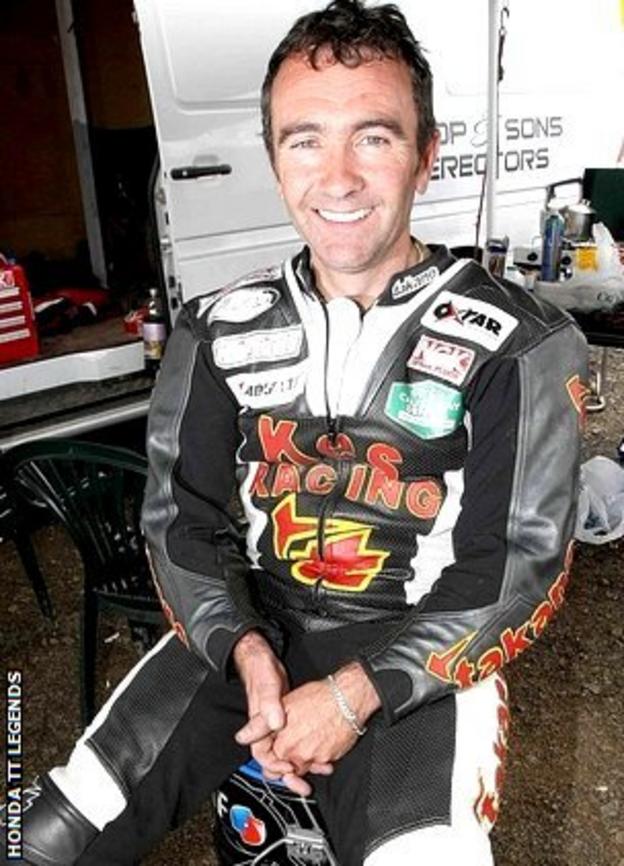 At the 1994 Isle of Man TT, a wheel came off Robert's bike and he collided with a stone wall. It might have been a tree, a telegraph pole or any other humdrum piece of 'furniture', as riders euphemistically call it, that you wouldn't want to collide with at 150mph.
Robert was lucky to survive but was left with a mangled arm and a shortened leg. "You get hurt, you think about quitting and then you get better," he said, having announced his shock comeback only two years later.
"It's a drug," says William, "which is why my dad just couldn't walk away, even when he'd had these bad injuries and he wasn't the rider he used to be. At the time I thought 'why are you doing this?' But now I understand."
Joey couldn't walk away either, not even after securing a glorious third Isle of Man TT hat-trick of wins in 2000, at the age of 48. Less than a month later, Joey died after crashing into trees at a minor race meeting in Estonia.
"All those thousands of times he'd thrown his leg over a bike," says Joey's long-time mechanic Sam Graham. "But all it takes is one split second."
Graham tells how Joey, who always rode in a yellow helmet and favoured the number three, would talk to fairies and wave to magpies while driving across the Isle of Man in his van. But stone walls and trees don't care much for superstitions.
Robert was devastated by his older brother and hero's death but managed to make sense of it. "Better being killed on a motorbike than lying for six months unwell and dying at the end of it," he said.
Fifty-thousand mourners attended the funeral of this intensely private and humble man, who spent his final night on earth sleeping across the front two seats of his van, despite being booked into a hotel suite that bore his name.
There are those who view road racers in a less flattering light. After French rider Franck Petricola was badly injured on the opening day of this year's North West, a writer on the Belfast Telegraph said he was a "glorified sensation-seeker" rather than a "brave hero". A day after the article was published, Englishman Simon Andrews was killed after colliding with a kerbstone.
But the response to the article was unanimous in its condemnation. One reader suggested the journalist in question should visit the grave of David Jefferies, who died at the Isle of Man TT in 2003. On the Yorkshireman's headstone is written: "Those who risk nothing do nothing, achieve nothing, become nothing."
But even the riders themselves recognise the inherent selfishness of their sport. If road racing is part of the fabric of Northern Irish life, as Neeson proclaims in the film, then it is a torn and tattered tapestry, however vibrant its colours.
"Most definitely we're selfish," says William, who broke his left leg in a crash at this year's Isle of Man TT. "I got away with it last time and as soon as I was well again I jumped straight back on a bike.
"It's a great life being on the edge all the time. I don't care, I guess that's what it is. Maybe if I had a kid, that might change me. But I can't see it."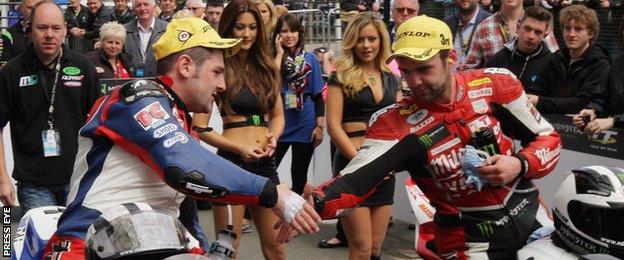 In the film, Michael cries when describing the look in his granny's eyes at Robert's funeral. "It will haunt me for the rest of my life," he says. "I've never felt for somebody as much in my life."
But Michael, road racing's undisputed current king and a man McGuinness once told me "likes to kill dead things" on a bike, is every bit as ferocious when defending his beloved sport from those he perceives to be ignorant outsiders.
"I don't expect them to judge my life, because I don't judge their lives," says Michael, who has won 11 races at the Isle of Man TT, including eight at the last two meetings. "So I don't care what people think. The media want to write stuff but they have no idea of what road racing means to riders deep down."
Michael, who has no time for any spiritual mumbo-jumbo, is unable or unwilling - probably both - to let us in on road racing's deep secrets: "Unless you've experienced it, it's not possible to describe what it's like."
Instead, Michael will tell you he just throws his leg over a bike and rips it - and that he'll be the one who gets away with it. That's all we need to know.