Manx Grand Prix 2014: Redmayne joins illustrious list of winners
Last updated on .From the section Motorsport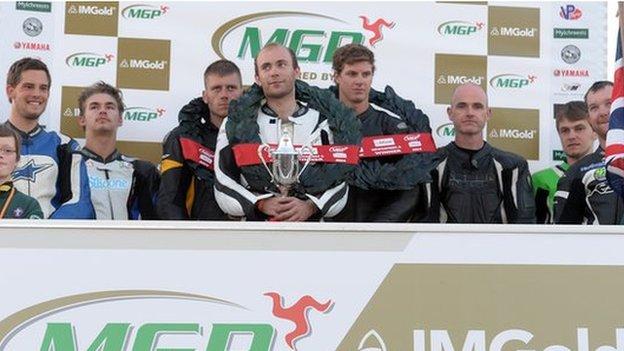 Billy Redmayne has added his name to an illustrious list including Robert Dunlop and Phillip McCallen by winning the Manx Grand Prix Newcomers title.
The Manxman clinched a thrilling victory by 1.8 seconds after a last-lap duel with Malachi Mitchell-Thomas, with Ireland's Shane Egan third.
Redmayne, who is home from a tour of Afghanistan, said he was "made up".
Douglas-based Dean Osborne took the B title, while Felpham's James Caswell-Cox won the C Race.
Redmayne added: "The pit crew did great - there is a lot of pressure and I want to thank them all."
The Newcomers race is broken into three different classifications with Newcomers A for machines up to 750cc; 650s twins and 250 two strokes are eligible for the Newcomers B Race; and Newcomers C is for 400s and 125cc bikes.