Manx Grand Prix TT: Andy Lawson claims Junior Manx GP
Last updated on .From the section Motorsport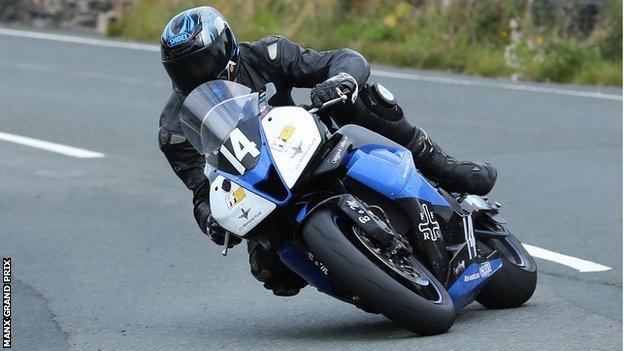 Andy Lawson won a dramatic Junior Manx Grand Prix after Rob Hodson experienced a problem in the pits when holding a commanding lead.
The Scottish racer took advantage of the Wigan man's misfortune to win by 12 seconds from Manx newcomer Billy Redmayne, with Andrew Farrell third.
Hodson led by 12.6 seconds at the halfway point before dropping to eighth because of a refuelling issue.
Redmayne's last lap of 119.062mph was the fastest of the race.
Lawson, who was hit by a bird on his first lap in windy conditions on the Mountain, said: "The wind was a big issue and there were a swarms of birds. I think I hit a few near Brandywell but I am delighted to win."
Hodson finished fourth, nine seconds off a podium place, with Andrew Soar completing the top five.
The Junior Manx Grand Prix race is open to machines of 600cc or lower.
Meanwhile, James Neesom won the Super Twin race by 28.8 seconds ahead of Farrell, with Callum Callister third.
The lead changed several times during the race, with Hodson running out of fuel at the end of lap two and Gary Gittins coming off at Ballagarey on lap four.