MotoGP: Donington Park to host British race in 2015
Last updated on .From the section Motorsport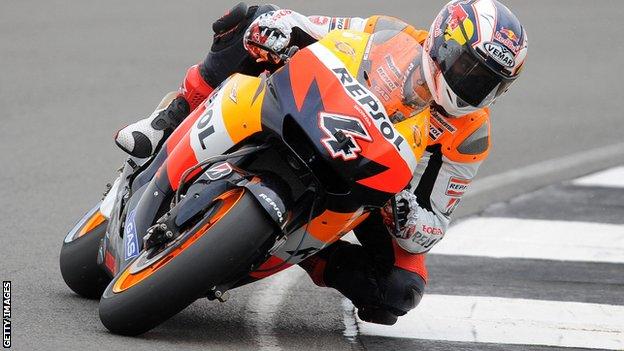 Donington Park will stage the British MotoGP for the first time in six years when the race returns in 2015.
Bosses at Silverstone, which has hosted the event for the last five years, had hoped to retain it for another year.
Circuit of Wales consultant Chris Herring said: "In Donington Park, we have a venue that shares our vision for growing MotoGP in the UK."
Donington Park staged the British MotoGP between 1987 and 2009.
But Silverstone managing director Richard Phillips, is unhappy with the decision to hand the race to Donington Park after failing to agree terms on a deal for 2015.
The Northamptonshire circuit, which has staged Formula 1's British Grand Prix for the past 27 years, was partly redesigned to attract bike racing.
Phillips said: "We have invested heavily in the circuit and facilities here at Silverstone, specifically to host MotoGP, and have developed the British Grand Prix into a highly successful event.
"We wanted to keep MotoGP at Silverstone, but cannot afford to subsidise it. We are extremely disappointed not to be hosting the event in 2015."
The Circuit of Wales, which is to be built in Blaenau Gwent at a cost of £315m, has a five-year contract with MotoGP.
But construction has been delayed by issues over common land and calls for the Welsh and UK governments to commit up to £50m towards the scheme.