Jolyon Palmer is first Briton since Lewis Hamilton to win GP2 title
Last updated on .From the section Motorsport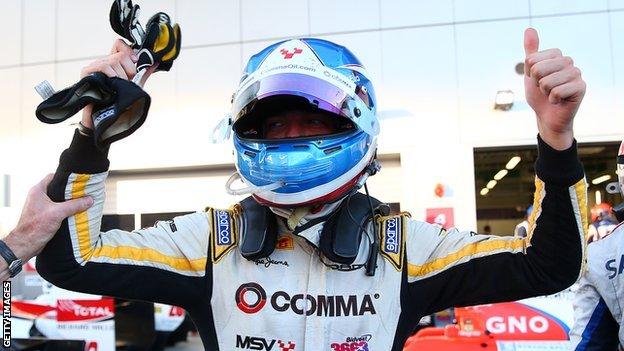 Britain's Jolyon Palmer secured the GP2 title with victory at the Sochi Autodrom, the venue for Sunday's inaugural Russian Grand Prix.
The 23-year-old, whose father Jonathan was an F1 driver between 1983 and 1989, is the first British driver to win the title since Lewis Hamilton in 2006.
"The first priority was to win GP2," said Palmer, after recording his fourth race victory of the season.
"Now that's done and I'm confident I'll be in Formula 1."
Palmer is the 10th GP2 champion since Formula 1's feeder series began in 2005, and six of the previous nine have gone on to race in F1, including Hamilton and his Mercedes team-mate and title rival Nico Rosberg.
"GP2 is the perfect series to feed into Formula 1 - the same tyres, the same tracks, the cars are even now a similar speed, especially into the corners," added Palmer, who has been competing in GP2 for four seasons.
"I feel absolutely ready for it and I am confident it can happen."