Formula E: Virgin Racing driver Sam Bird says critics are wrong
Last updated on .From the section Motorsport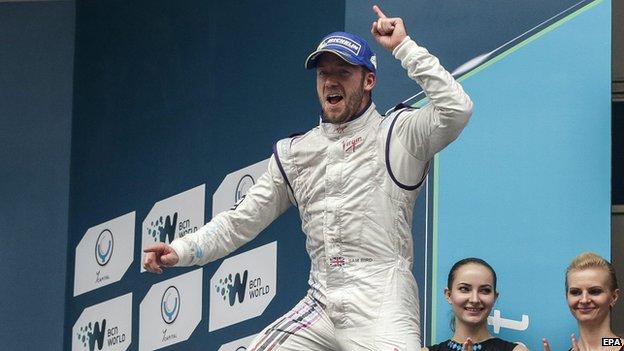 Formula E's brand of street racing will force critics to rethink their opinions, according to English driver Sam Bird.
The global racing series, which involves single-seat electric-powered cars, is in its inaugural season.
"Some people have poo-pooed this from the start. They're so wrong," Bird, who won the second race of the season in Malaysia on Saturday, told BBC Sport.
"They'll eat their words soon because this is a serious championship."
Names like Bruno Senna, nephew of the late three-time Formula 1 champion Ayrton, Nicolas Prost, son of four-times winner Alain and Nelson Piquet Jr, whose father won three world titles in the 1980s, have brought attention to Formula E.
A host of former F1 drivers also make up the grid, while film star Leonardo DiCaprio is the co-founder of Monaco-based team Venturi.
In addition, 'fanboosts' - which increase the power of cars from 133kw to 200kw and are awarded to drivers with the most votes on social media - can provide drivers with more speed mid-race.
Though Bird is yet to be given a 'fanboost', compared to two handed to Senna and Katherine Legge, he is not phased by any disadvantage.
"Things like the fanboost, the old school might not agree with it now, but there are young fans out there who are fully interacting with their favourite drivers," said Virgin Racing's Bird, who sits second in the 10-race championship.
"I think it's an amazing thing for a fan to have direct influence on their favourite driver's race. For a young fan, how cool is that? If it could one day be a winning move for a race, the fan boost will just explode."
Bird showered praise on the "bumpy" yet "exciting" Malaysia circuit then paid tribute to old GP2 team-mate Jules Bianchi, who suffered severe head injuries when he crashed at the Japanese Grand Prix on 5 October but has now come out of a coma.
"I'm chuffed to get Virgin Racing's first win however I really want to dedicate this win to Jules Bianchi," said Bird.
"I've shed many tears. His family are a lovely, lovely bunch of people."