Mark Webber: Ex-F1 driver says 'angle of impact saved me'
Last updated on .From the section Motorsport
Ex-Formula 1 driver Mark Webber said he only avoided serious injury in a World Endurance Championship race because he crashed at the "correct angle".
The 38-year-old Australian spent the night in a local hospital after the accident during Sunday's Six Hours of Sao Paulo event.
"I was a lucky boy," Webber, who quit F1 in 2013 after 12 years, tweeted. "The correct angle of impact saved me.
"Thanks everybody for your incredible messages and support."
Webber was concussed by the accident and earlier said, via his website, he was "pretty bruised" and had a "stinking headache".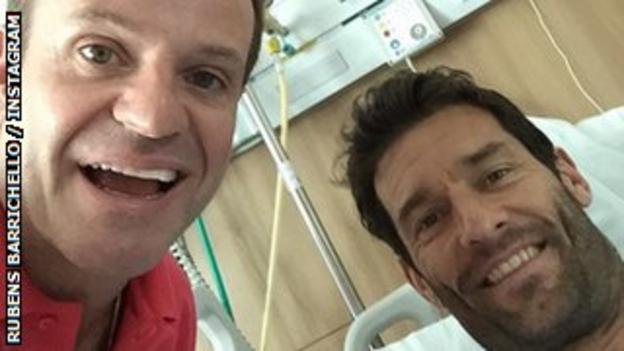 Webber, who said he had no recollection of the accident or how it happened, was racing for Porsche and expects to be competing in the series again next year.
Race organisers said Webber had been in a "serious" collision with the Ferrari of Italy's Matteo Cressoni.
A statement on the Australian's website added: "Mark is still under care at the hospital but is set to return to the UK later this week."
The FIA, motor sport's world governing body, said the race had ended under the safety car following the accident.
"Both drivers were taken to the circuit's medical centre and, after initial examination, to the local Hospital Bandeirantes for further checks. Their condition has been reported as satisfactory," the FIA said.
Webber's former F1 teams include Williams and Red Bull, where he raced alongside four-time world champion Sebastian Vettel.
He enjoyed nine grand prix wins in his career.
British F1 driver Jenson Button tweeted: "Glad to see @AussieGrit is OK after his shunt at Interlagos @FIAWEC, that was a big one matey."