Kris Meeke sees hopes dashed early on in Mexico Rally
Last updated on .From the section Motorsport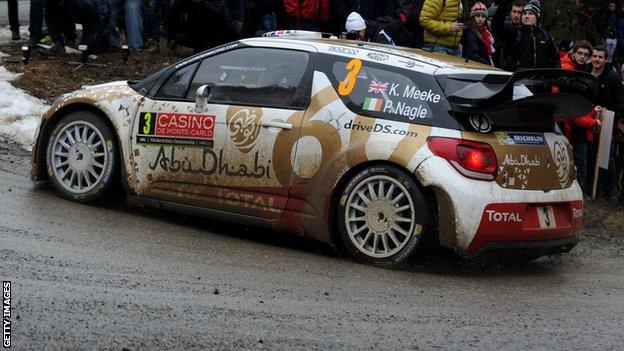 Dungannon's Kris Meeke saw his hopes of securing a high leaderboard finish at Rally Mexico dashed as he crashed on the fourth stage of the event.
Citroen DS3 driver Meeke was caught out under braking for a corner, slid wide and touched one of the unforgiving rocks on the edge of the road.
Damage to the track control arm saw Meeke sidelined for the day but his team plan to restart him on Saturday.
He and co-driver Paul Nagle had set the fastest time on the previous stage.
The pair lay third overall in the third round of the world championship before their accident forced them out of action.
"It's bitterly disappointing. I just braked too late into a fast right, which was followed by a tight left. We got off line and just couldn't get it back, so we never made the left-hander. We clipped a rock on the outside and that was it," explained Meeke.
"I'm at a bit of a loss to explain it right now. The road was slippery, but I was just too late on the brakes.
"The specific goal today was to not make a mistake, so I'm really angry with myself. Now we just have to get back on the road on Saturday and learn as much as possible."
The 35-year-old Northern Irishman began his season with a 10th place finish in Monte Carlo in January, followed by a seventh position in Sweden last month.