Dani Pedrosa says he 'can't continue racing' with arm injury
Last updated on .From the section Motorsport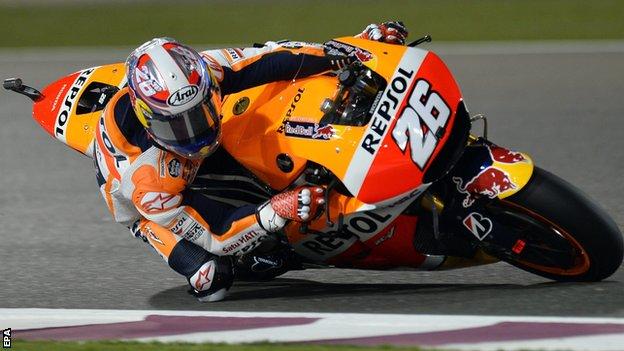 Dani Pedrosa says pain in his arm means he may not be able to continue racing just one race into the MotoGP season.
He said: "I had serious problems with my right forearm and I was suffering in every race last season.
"It is the most difficult moment of my career. I cannot continue racing and performing this way. It is difficult to imagine what a solution could be."
Pedrosa has won 26 races in MotoGP, finishing as runner-up in the championship on three occasions, and is team-mate to defending champion Marc Marquez.
Sunday's season-opening race was won by Valentino Rossi, with Marquez in fifth place.
What is arm pump?
Former Grand Prix rider Steve Parrish: "Arm pump is a plague for motorbike riders. It is like cramp and it affects different people at different times. These guys all have massive forearms; you need to to stop these bikes from 210mph, and sometimes the muscle gets too big for the sack that it sits in."
Read more
MotoGP riders regularly suffer from 'arm pump' - a condition caused by the forces of braking from over 200mph - and it is usually treated by surgery between races.
But Pedrosa says he has been told to avoid further surgery in his career.
He said: "I worked very hard over the winter in order to find a solution, because I was suffering in every race last season.
"I went through one surgery last year and it wasn't successful. I tried not to say in public; obviously it wasn't an easy thing. Honda always knew about it.
"Every doctor recommended that I not undergo another operation and I have tried to look for alternatives, but by the looks of things nothing is working positively for it.
"Now I have to assess my options and see what I can do."
The next race takes place in Texas on 12 April.