MotoGP: Honda's Dani Pedrosa has surgery on arm pump problem
Last updated on .From the section Motorsport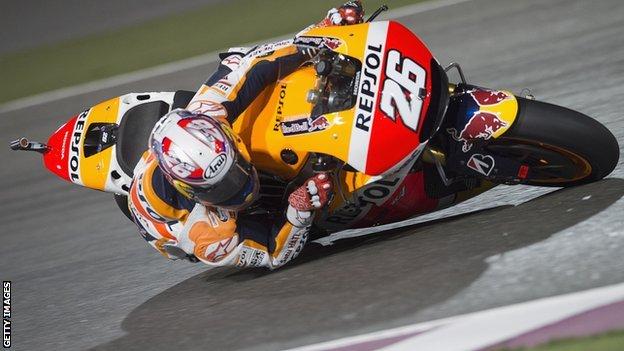 Dani Pedrosa has undergone "successful" surgery an ongoing arm problem that has thrown his MotoGP future into doubt.
The 29-year-old Spaniard is expected to be sidelined for four to six weeks.
Test rider Hiroshi Aoyama will take Pedrosa's place in the Honda team alongside world champion Marc Marquez for the next round in Texas on 12 April and the following race in Argentina.
Pedrosa has been suffering from arm pump - a painful condition common among competitive motorcycle riders.
Former grand prix rider Steve Parrish
"Arm pump is a plague for motorbike riders. It is like cramp and it affects different people at different times. These guys all have massive forearms; you need to to stop these bikes from 210mph, and sometimes the muscle gets too big for the sack that it sits in."
A Honda statement said Pedrosa's operation had taken just over two hours, with lead surgeon Dr Angel Villamor "confident of its success".
However, Pedrosa's return to racing - which could come at the Spanish Grand Prix on 3 May - will not be confirmed until the final outcome of the surgery is determined.
Speaking after finishing sixth in Sunday's Qatar Grand Prix, Pedrosa said he had been troubled by the problem throughout the race - having also suffered with the injury last season - and admitted he "cannot continue racing and performing this way".
He had been reluctant to undergo further surgery, but speaking ahead of Friday's operation said: "Obviously this isn't the news I wanted to be sharing with everyone.
"However, after speaking with some key doctors and medical professionals that I trust, they are all in agreement that this is the only option for me."