Mick Schumacher: Expectations must not be 'built too high'
Last updated on .From the section Motorsport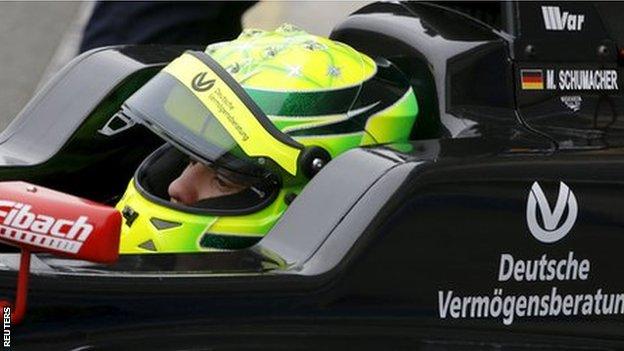 Michael Schumacher's manager has called for expectations to be kept in check as the seven-time F1 world champion's son begins his career in Formula 4.
Mick Schumacher, 16, runner-up in the German kart championship last season, completed his first public test for the Van Amersfoort team on Wednesday.
"I'd like to ask that the expectations on Mick aren't built too high," Michael Schumacher's manager Sabine Kehm said.
The F4 season begins at Germany's Oschersleben circuit on 26 April.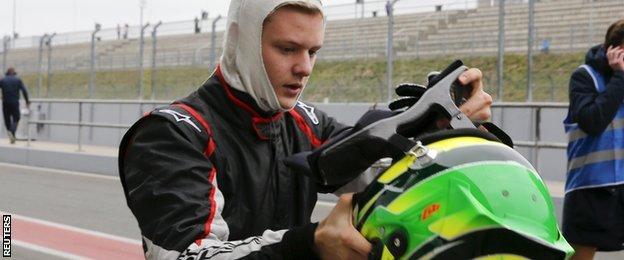 Mick Schumacher was kept away from reporters who had assembled to see his official debut, in which he finished eighth, fifth and 12th out of 33 drivers across three sessions.
His father, who is continuing his rehabilitation following a serious skiing accident in December 2013, is the most successful driver in F1 history, with seven world titles and 91 wins in a 307-race career.
Speculation over Mick Schumacher's F1 prospects will be high as he embarks on his single-seater career, but Kehm added: "You instantly think of Formula 1 when you hear the name Schumacher.
"Mick certainly has that in mind, but we have to take this step-by-step, he first of all has to learn to handle the Formula 4 car."
F1's father and son pairings (father first)

Hans Stuck

(1951-53, 3 GPs);

Hans-Joachim Stuck

(1974-79, 74 GPs)

Keke Rosberg

(1978-86, 114 GPs, 5 wins, 1 world title);

Nico Rosberg*

(2006-, 168 GPs, 8 wins)

Sir Jack Brabham

(1955-70, 126 GPs, 14 wins, 3 world titles;

David Brabham

(1990-94, 24 GPs)

Satoru Nakajima

(1987-91, 74 GPs);

Kazuki Nakajima

(2007-09, 36 GPs)

Graham Hill

(1958-75, 176 GPs, 14 wins, 2 world titles);

Damon Hill

(1992-99, 115 GPs, 22 wins, 1 world title)

Manfred Winkelhock

(1980-85, 47 GPs);

Markus Winkelhock

(2007, 1 GP)

Wilson Fittipaldi

(1972-75, 35 GPs);

Christian Fittipaldi

(1992-94, 40 GPs)

Nelson Piquet

(1978-91, 204 GPs, 23 wins, 3 world titles);

Nelson Piquet Jr

(2008-09, 28 GPs)

Mario Andretti

(1968-82, 128 GPs, 12 wins, 1 world title);

Michael Andretti

(1993, 13 GPs)

Jan Magnussen

(1995-98, 24 GPs);

Kevin Magnussen*

(2014-, 19 GPs)

Gilles Villeneuve

(1977-82, 67 GPs, 6 wins);

Jacques Villeneuve

(1996-2006, 163 GPs, 11 wins, 1 world title)

Jos Verstappen

(1994-2003, 106 GPs);

Max Verstappen*

(2015-, 2 GPs)

*still active in F1