Geoff Duke: Racing superstar of the 1950s dies aged 92
Last updated on .From the section Motorsport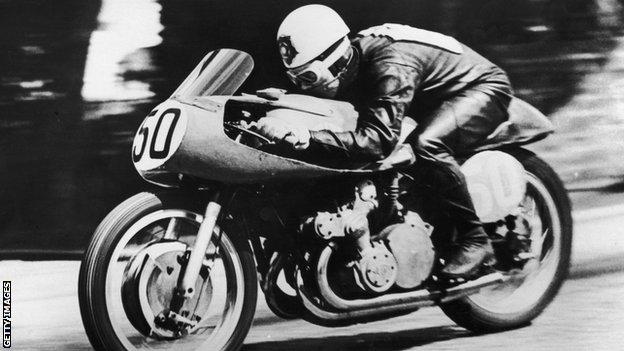 Six-times world motor-racing champion Geoff Duke, the first major star of the sport, has died at the age of 92.
St Helens-born Duke made his name at the Isle of Man TT and dominated the event in the 1950s, winning on six occasions.
Duke, who was awarded an OBE in 1953, passed away on Friday at a nursing home in Douglas.
MotoGP rider Cal Crutchlow tweeted: "Really sad to hear the passing of Geoff Duke. A true hero in our sport."
Duke was the standout figure at the famous Isle of Man race for a decade and was declared the first rider to lap at 100mph, though this was later corrected to 99.97mph.
He retired in 1959 but his standing in the sport was reflected when, 10 years ago, he was invited to re-open the National Motorcycle Museum after a fire had caused £20m worth of damage.
In 2007, Duke - along with nine other TT legends - featured on a commemorative stamp collection celebrating the event.