Alastair Seeley dominates first North West 200 practice session
Last updated on .From the section Motorsport
Alastair Seeley posted the fastest times in three of four qualifying sessions on the opening day of practice at the North West 200 on Tuesday.
The Carrickfergus rider was quickest in the Supersport, Superbike and Superstock classes with James Hillier leading the Supertwins times.
Michael and William Dunlop were second and third in the Supersport session.
Final practice takes place on Thursday morning with three races that evening and a five-race programme on Saturday.
In wet and windy conditions, Seeley posted an average lap speed of 104.04mph in the opening Supersport class with Michael Dunlop next best on 103.40mph and his brother William Dunlop on 102.88mph.
On his Tyco BMW, Seeley again clocked a top speed in the Superbikes with an average speed of 109.97mph, followed by Gary Johnston (108.59mph) and Lee Johnston (107.89mph).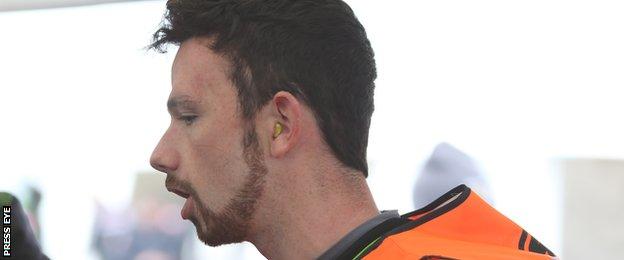 Hillier dominated the Supertwins practice on his Kawasaki with an average speed of 99.04mph ahead of Ryan Farquhar (99.02mph) and Jamie Hamilton (98.71mph) with Farquhar's SGS/KMR team-mate Jeremy McWilliams failing to post a qualifying time.
Seeley again came out on top in the final qualifying session in the Superstock class with a lap speed of 118.306mph and will be favourite to add to his tally of 12 North West victories when racing begins on Thursday evening.
The Carrickfergus man is being tipped this week to get close to or perhaps even edge past Robert Dunlop's all-time record of 15 North West wins.
"A good start to the week for us and all the bikes are working well." said the 12-times North West winner.
"I was just chipping away. I managed to come in, make some changes and get a few more laps done at the end.
"I pulled in early during the Superbike session because the conditions were pretty sketchy and I didn't want to take any chances," Seeley added.
Seeley's fellow Carrickfergus man Glenn Irwin produced an impressive debut ride at the meeting to finish fifth in the Supersport session.
"It's so fast - even more than I expected - and the chicanes just come up on you," said the British Supersport championship contender.