Alastair Seeley maintains North West 200 qualifying dominance
Last updated on .From the section Motorsport
Alastair Seeley again dominated North West 200 practice on Thursday but his times were overshadowed by a furious paddock outburst by Guy Martin.
Seeley, 35, repeated his Tuesday feat of topping the Superbike, Supersport and Superstock qualifying sessions.
Lincolnshire rider Martin bemoaned the chicanes on the 8.9 circuit and later said he had "no interest".
William Dunlop crashed off his bike in Supersport qualifying but was able to walk away to get treatment.
Dunlop flew over the front of his Tyco BMW as he crashed at York Corner in an incident which led to the session being red flagged for a time.
The Ballymoney recovered sufficiently to post the fifth fastest time in the later Superbike session but said that he wasn't sure whether he would race on Thursday evening after landing heavily on his back in the earlier spill.
"Tonight might still be a bit of an ask. I don't feel too bad sitting here but we will see what happens," added Dunlop.
"I haven't broken anything and that is the main thing.
"I want to get a feel for the bike because we have not really had a dry run on it."
Martin's frustrations surfaced after he failed to post a top sixth qualifying position in the Superstock session.
"(I'm) Bored to the back teeth," Martin told BBC Sport Northern Ireland.
"It's the chicanes. Riding around chicanes. I did five laps there. Bored to the back teeth. No interest. No interest. No interest," added Martin, who in addition to the motorcycling exploits, has also forged a career as a TV presenter in recent years.
Away from the Martin controversy, Carrickfergus rider Seeley's continuing excellence was the main talking point of Thursday morning's action.
Seeley's fastest lap of 121.55mph left him ahead of Fermanagh man Lee Johnston (120.43) in the Superbike standings with John McGuinness (120.00) in third spot.
Bruce Anstey (119.68), William Dunlop (119.68) and Michael Rutter (119.06) completed the top six with Michael Dunlop only seventh fastest.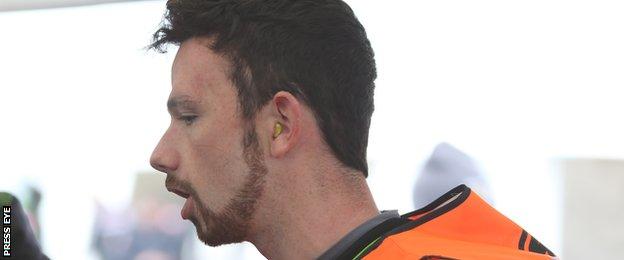 Seeley (116.36) topped the Supersport charts ahead of Anstey (116,07) and William Dunlop (115.50) with event newcomers Glenn Irwin (115.33), John McGuinness (115.06) and Gary Johnson (114.87) completing the top six.
Twelve-time North West winner Seeley (120.19) continued his dominance in the Superstock session ahead of Michael Dunlop (119.86) and Lee Johnston (118.27).
Matt Jessopp (118.19) was fourth fastest ahead of Austrian visitor Horst Saiger (117.49) and Dean Harrison (117.09).
Dungannon man Ryan Farquhar (106.53) earned pole position in the Supertwins session ahead of Jessopp (105.93) and James Hillier, who had topped Tuesday's rain-affected qualifying.
Jeremy McWilliams (105.68) safely qualified in fourth spot ahead of Jamie Hamilton (104.85) and Irwin (104.79).
Yorkshire rider James Cowton sustained a suspected dislocated shoulder in the Supertwins session and has been ruled out of Thursday evening's races.