Isle of Man TT 2015: Weather curtails untimed TT practice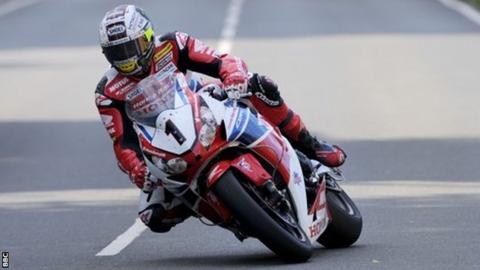 The second practice session of the 2015 Isle of Man TT races was cut short after rain and strong winds around the Mountain Course on Tuesday.
Clerk of the course Gary Thompson made an early decision that the session would be untimed because of the deteriorating weather conditions.
The session did see big names including John McGuinness, Michael Dunlop and Guy Martin out on their superbikes.
Practice will resume on Wednesday evening with bikes away at 18:20 BST.
John McGuinness, a 21-time winner, said conditions were very "sketchy" on his third lap and that it was "very cold" over the mountain.
He added: "They were four cold laps and very soggy. The marshals were struggling to hold on to flags so fair play to them.
"It was definitely a good decision".
The Morecambe racer believes it is the most competitive grid in recent years and said any rider in the top 12 is capable of winning.
Thompson flagged the session off at 19:35 BST with riders out on course brought back to the start and finish under waved yellow flags.
The decision meant the sidecars did not get the chance to practise.
A met office spokesman said fine weather is now forecast so Wednesday and Thursday's practice should be dry and pleasant but with temperatures low on the mountain.
American Brandon Cretu and Philip Crowe were reported off at Kerrowmoar and Laurel Bank but were both said to be "OK".
Mark Herbertson was airlifted to Nobles with a reported shoulder injury after coming off at Mountain Box.