Isle of Man TT 2015: Ian Hutchinson posts first 130mph lap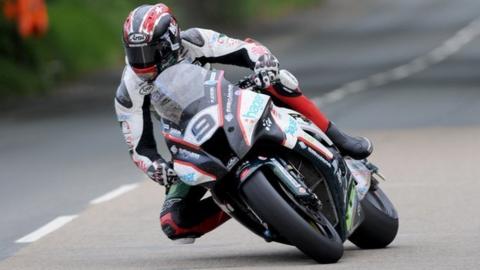 Ian Hutchinson and John McGuinness both lapped the Isle of Man TT course at more than 130mph as speeds continued to rise during practice week.
Hutchinson was quickest at 130.266mph on the PBM Kawasaki, with McGuinness 1.8 seconds slower at 130.030.
Bruce Anstey and William Dunlop both went over 129mph, while Guy Martin, Michael Rutter and Conor Cummins were all over 128mph.
Practice will continue on Friday evening.
Meanwhile, Michael Dunlop's Buildbase BMW Superbike did not arrive on the island in time for Thursday's practice but he did top the Superstock timings at an average speed of 129.659mph.
The 11-times winner after suffering mechanical issues with the new Yamaha R1 machine at the North West 200 and TT practice.
Hutchinson was second quickest in the class at 128.308 and David Johnson third at 127.470.
The session for Supersport and Lightweight machines was red-flagged after an incident at Ballagarey involving Blackpool's Roy Richardson.
Organisers said he has since been flown to a UK hospital where his condition is described as "serious but stable."
Gary Johnson posted the quickest Supersport lap in the restarted session at 124.307 with Ryan Farquhar fastest of the Lightweight machines at 117.432.
John Holden and Dan Sayle topped the sidecar charts at 114.742mph - five seconds faster than Dave Molyneux and Ben Binns.
2015 Isle of Man TT race schedule
Saturday 6 June
11:00 BST TT Superbike race - 6 laps
14:00 Sidecar Race 1 - 3 laps
Monday 8 June
10:45 BST Supersport Race 1 - 4 laps
14:00 Superstock Race - 4 laps
Wednesday 10 June
10:45 BST TT Zero - 1 lap
12:00 Supersport Race 2 - 4 laps
14:30 Sidecar Race 2 - 3 laps
Friday 12 June
10:15 Lightweight TT Race - 3 laps
13:00 Senior TT Race - 6 laps