Isle of Man TT 2015: Birchall brothers complete double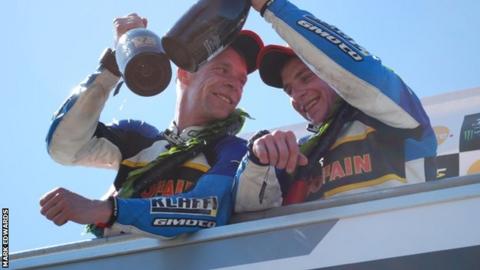 Ben and Tom Birchall smashed 14 seconds off the sidecar race record to complete an Isle of Man TT double on Wednesday.
The Mansfield brothers finished seven seconds ahead of 17-time winner Dave Molyneux and Benjamin Binns after 119 miles of racing.
Molyneux and Binns also set the fastest sidecar lap ever on their final circuit, averaging 116.785mph to beat Nick Crowe's eight year old record.
The Birchall's brothers final lap was 116.783mph.
The LCR Honda duo, who crashed heavily at Glen Helen last year, said it was a "dream come true."
Driver Ben said: "To win and to beat a legend like Dave Molyneux means everything to me - and to do it with my brother and best mate is very special - he was faultless.
"Dave pushed us all the way. It was some race."
Molyneux, 51, said he was pleased to set a new lap record.
The Man racer said: "It's great and it shows how special Nick's lap was in 2007 - not many records last that long."
John Holden and an Sayle completed the podium 12 seconds down on Molyneux and Binns.