Le Mans: Nico Hulkenberg wins Le Mans from Mark Webber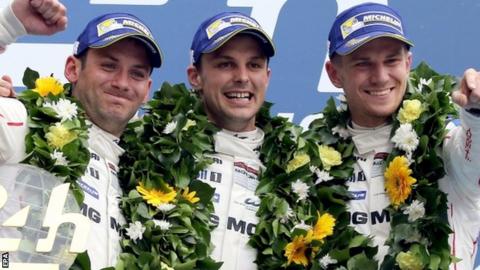 Nico Hulkenberg became the first active Formula 1 driver to win Le Mans for 24 years as he partnered England's Nick Tandy to victory in a Porsche.
Along with New Zealand's Earl Bamber in the number 19 car, they earned a record 17th win in the race for Porsche.
Mark Webber was a lap behind in second in another Porsche, with Audi third.
Hulkenberg, the first driver still racing in F1 to win since Britain's Johnny Herbert in 1991, said: "I'm speechless right now, to be honest."
Tandy, 30, took the lead on lap 253 on Sunday for the number 19 Porsche team before Hulkenberg guided them to victory with 395 laps covered.
The number 17 Porsche, featuring ex-F1 driver Webber, was a lap behind in second with Audi's number seven R18 e-tron quattro a further lap adrift.
Porsche's victory ended a run of 13 wins in the previous 15 editions by Audi.
And it was a first success for Porsche, who returned to Le Mans last year after a 16-year absence from the top category, since 1998.
"I could retire from racing tomorrow and look back on today and I am sure I would be happy for the rest of my life," said Bedfordshire's Tandy, the 30th British winner of the event.