Nick Tandy: Porsche's Le Mans 24-hour win a 'surreal' feeling
Last updated on .From the section Motorsport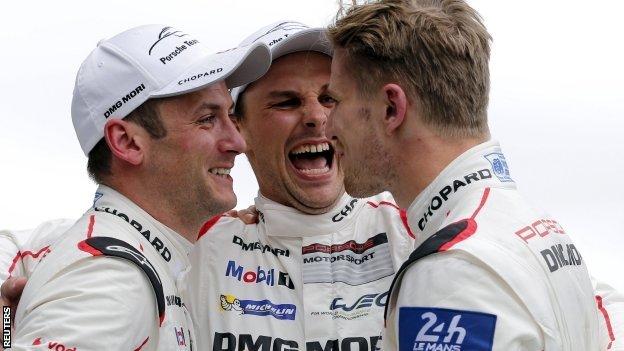 Nick Tandy says becoming the 32nd British winner of Le Mans is "surreal".
"I had an ambition, goal and drive when I was 12 to win races," he said.
"It's very difficult to do that - but if you want something enough and pursue it, talk to the right people and have a little bit of luck along the way - I'm stood here winner of Le Mans."
Tandy took the lead on lap 253 for the number 19 Porsche team before Hulkenberg guided them home with 395 laps covered - a record 17th win for the manufacturer.
Racing to success
Nick Tandy is the 32nd British driver to win at Le Mans - the most successful is Derek Bell, who won five times between 1975 and 1987
The last British driver to win at Le Mans before Tandy, a Porsche driver since 2010, was Allan McNish two years ago.
With Hulkenberg - the first active F1 driver to win Le Mans since Johnny Herbert in 1991 - and reigning Porsche Supercup and double Porsche Carrera Cup Asia champion Bamber alongside him, Tandy believes the experience in his team saw them through.
"The good thing is we've all raced in a number of different things before. It's not like your typical rookie that has to learn to do stuff," he said.
"It's a different car, different set of people, different place, different type of racing for some of us, but it's still in our comfort zones.
"There's a mutual respect between us in that nobody is worried about when they get into the car as to what sort of job they will have done when getting out of the car.
"It builds a relationship. I've said before if you have a season-long team-mate you virtually have to have a husband and wife relationship; I want to do well so I don't let the guys down."