Formula E: First season of electric car racing ends in Battersea Park
By Saj Chowdhury at Battersea Park
BBC Sport
Last updated on .From the section Motorsport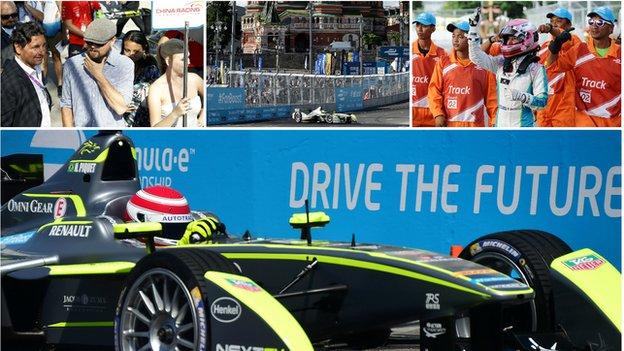 'Drive The Future'.
The tagline used by Formula E; the revolutionary global electric racing series of which the inaugural season came to a conclusion in London over the weekend.
About 60,000 spectators gathered at Battersea Park to watch Team China's Nelson Piquet Jr win the first ever drivers' championship following 10 months of races, promotion, persuasion and plenty of power units.
Motorsport's governing body, the FIA, wanted to attract a new, younger audience and reduce its carbon footprint while boosting the green economy.
But did it succeed? And what did those watching make of it? Is this really the start of the four-wheeled electric revolution? Or will the plug be pulled?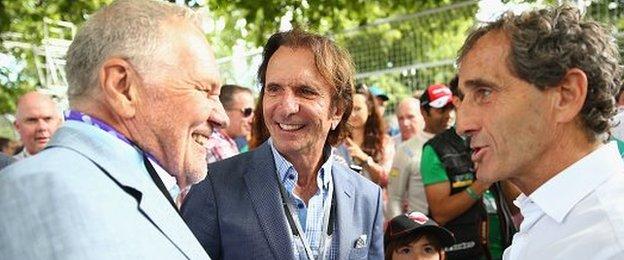 So has it been a success? Batteries & big stars
From notes on a napkin in 2011 to the current 10-round series, the evolution of single-seater electric car racing is already somewhat of a success - just by getting off the ground.
What hampered the concept from becoming a reality earlier was creating a battery capable of powering a race car at up to 140mph. But in came Formula 1 heavyweights Williams, who developed a lithium Ion battery with the equivalent power of 10,000 AA batteries.
With the technology in place, it was up to Spanish businessman Alejandro Agag to pull together backers, teams, drivers and cities in order to create a series. He managed to attract teams such as Prost, Virgin, Audi, Renault and Andretti and even Hollywood star Leonardo DiCaprio, while drivers on board include familiar former F1 names such as Sebastien Buemi, Jarno Trulli, Nelson Piquet Jr and Bruno Senna.
Innovations were introduced such as Fan Boost, which gave the chance for those watching to use social media to vote for the driver who should get a mid-race injection of power. There was also the peculiar sight of the drivers changing cars during a race, but that was enforced because current batteries are not powerful enough to keep a car going for a whole race.
Bringing racing to the people - moving the emus
When qualifying got under way at 11:00 BST on Saturday in Battersea Park for the penultimate round of the season, one of south London's premier parks was transformed into a 15-turn, 3km race circuit.
Wandsworth Council and some of its residents voiced concerns over the race being held there. But after months of negotiations Formula E was given the green light.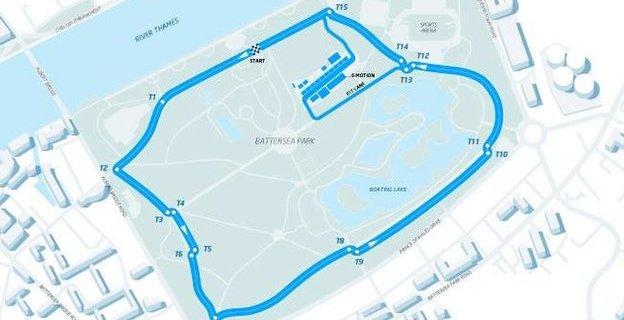 The quieter, emission-free cars mean cities have been willing to lend their streets to the competition.
Agag explained to BBC Radio 5 live this week that the importance of holding races in city streets was paramount to the success of the series, because out-of-town circuits would probably only attract "about 5,000 fans". About 60,000 tickets were sold for the two days in London.
However, holding races in built-up areas poses its own unique problems.
"For Battersea Park we needed to move the emus from Battersea Zoo because the vets said they would be distressed by the noise from the construction work. So we had to get a van and pay £15,000," Agag told the Financial Times.
"One lady said she needed to walk her dogs in Battersea Park because they did not like going to other parks, so we kept an area free for dog walkers."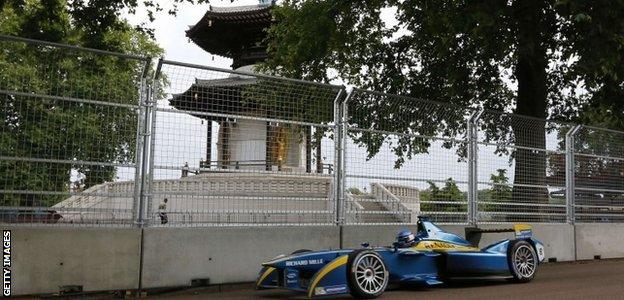 Is quiet the new loud?
Providing an area for dog walkers was a small concern compared to the petrol-head purists and floating motorsport fans who asked how a quieter, slower, less smelly form of racing could be a success.
Up close they sound like small jet engines, emitting a high-pitched sound as they whizz past; and at Battersea Park it was notable that it was difficult to hear one approaching out of a bend.
Regarding speed, they are not as fast as F1 cars, but to the lay spectator - up close to the action and not in stands - the racing appeared just as exciting as that in any other motorsport event.
"Sound is being muted in other competitions too," said Autosport journalist Gary Watkins.
"Cars are getting quieter on the road and in competition. A lot of organisers have limited the sound themselves, rather than be regulated from outside."
Who watched it?
One of the key FIA strategies for Formula E was attracting a new and younger audience to motorsport, not just the environmentally conscious. At Battersea Park it was evident there were many families present, in among the 60,000 crowd over the two days.
A major reason for this was the ticket pricing and the city location. An early bird ticket for the London event was £15. Compare that to next weekend's British Grand Prix, which allows children under 10 to attend for free, but where the cheapest race day tickets are priced at £99.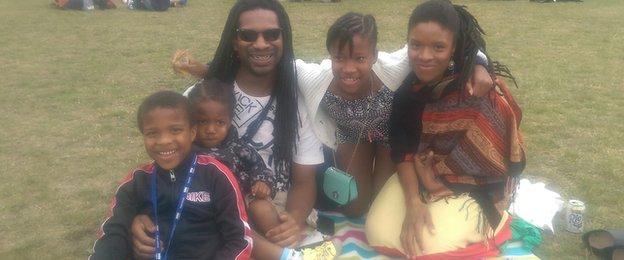 Self-confessed "petrolhead" Michael Long brought his whole family to the event.
"I was brought up in the area and it's great for the children to see this," he said.
"However, you wouldn't know that the qualifying was on unless a car passed you. If you were a mile away from an F1 circuit, you knew there was a F1 event on.
"With regards to excitement I'd give it one out of 10. You can't see anything because there aren't viewing areas and it's quiet. At least at Brands Hatch you can see the circuit from different areas."
Electric car owner Jason Mayo, from across the water in Kensington, brought his nine-year-old son Inigo.
"My kids are enthusiastic about electric cars so I brought them along," he said.
"The tickets are cheaper and more accessible than F1, which makes it more appealing."
And in what numbers?
TV rights were sold quickly. In the UK, ITV 4 showed the races, with the climax moved to ITV 1. Saturday's race in London had an audience of 460,000, which was the highest since the opening race in the Beijing. However, only 128,000 tuned in to watch the previous round in Moscow on 6 June - the lowest of the season.
There was good news for Formula E last week though, as US broadcaster Fox Sports extended its deal until 2020, after races in Miami and Long Beach proved a TV ratings success.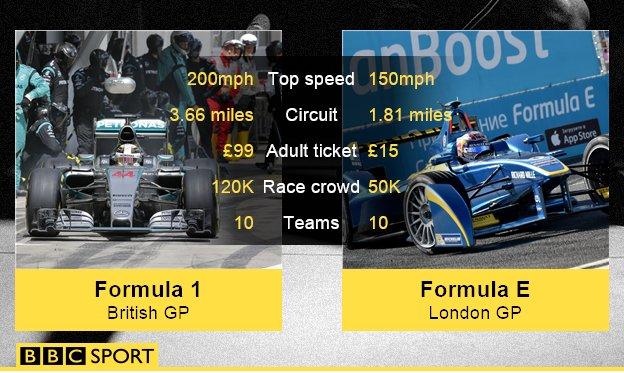 Money, marketing and celebrities
Another key strategy in determining success was the marketing and funding.
Agag, who invested some of the £60m to start the project, said it required little effort to attract investors prior to the start of series because they were keen to invest in green technology.
And according to a recent report on autosport.com, two US media groups combined to buy a large stake in the series which, according to the Spanish CEO, has secured future of Formula E for "multi-seasons".
With finances stable, the marketing department worked on making Formula E an event to be seen at.
Environmental campaigner DiCaprio was already on board having founded the Monaco-based team Venturi. The Long Beach leg of the series was attended by A-listers Adrien Brody, Cuba Gooding Jr and model Irina Shayk, while singer Will.I.Am and actor Antonio Banderas attended the races in London.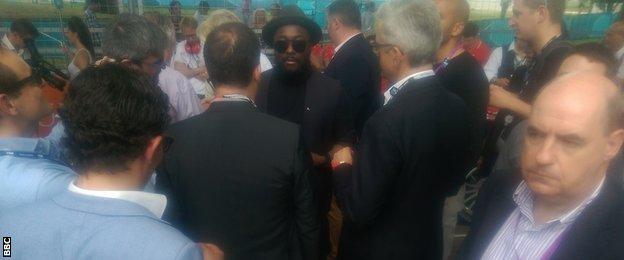 How was the competition?
Now the racing. Many of the drivers competing were household names to motorsport fans, while female racers, who are yet to break into F1, also competed, such as Briton Katherine Legge, Italian Michela Cerruti and IndyCar's Simona De Silvestro.
Because the first season featured cars with the same specification, it was a true test of the drivers' skills around the temporary tracks, and also their ability to hop into another car mid-race. There were seven different winners from the 11 races.
From next season, teams will be allowed to work on the powertrain (the inverter, gearbox, cooling system and motor), while it's expected they will have the choice of what battery to use from the 2016-17 campaign onwards.
Italian Trulli, who also managed a team this season, is one of the many drivers who is confident the sport will grow in stature.
"Formula E will get better," he told BBC Sport. "Electric car technology has just started and we are far from where we want to be. There is a lot more room for improvement."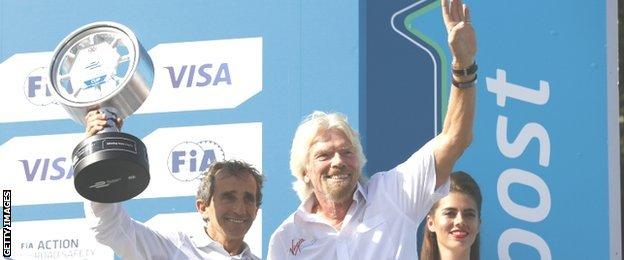 What does the future hold?
Sir Richard Branson, who backs the Virgin Racing team, told the assembled media that Formula E will be more popular than F1 within five years. As a former F1 boss, but a keen innovator and environmental campaigner, perhaps that came as little surprise.
Despite uncertainty over the direction F1 will take, the 65-year-old competition remains the world's premier motor sport and dwarves Formula E when it comes to TV audience, crowds, scale and team budgets.
However, with the full support of the automotive industry, which is keen to transfer any new technology to the domestic electric car market, Formula E is set for the long haul.
"F1 technology is not usable in road cars because it's too expensive," Senna, nephew of F1 great Ayrton, told BBC Sport.
"Formula E is trying to develop things that are relevant for the next generations and their quality of life. Hopefully, this is the beginning of it."