Andy Priaulx: How meditation led to three World Touring Car titles
By Brent Pilnick
BBC Sport
Last updated on .From the section Motorsport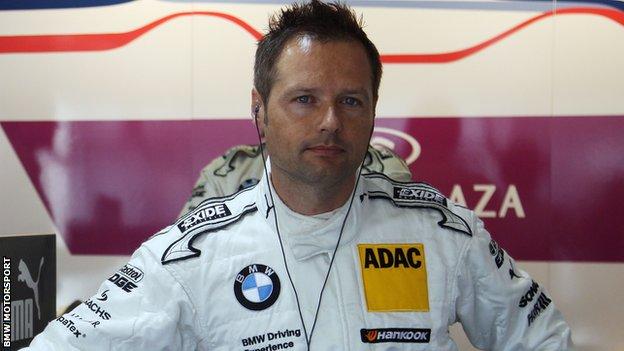 Andy Priaulx is one of Great Britain's most successful racing drivers.
In a career spanning almost 20 years, Priaulx has an array of British, European and world titles under his belt.
But the triple World Touring Car champion believes it is not the car or the level of sponsorship that has been key to his success, but meditation.
The 40-year-old BMW driver from Guernsey says without the right approach to clearing his mind and getting in 'the zone', he would just be another man trying to make his way in the ultra-competitive world of professional motorsport.
"I was at a point in my career where I was just failing," Priaulx told BBC Sport as he prepares for this weekend's fifth round of the British Touring Car Championship at Croft.
"I didn't have the sponsors, I couldn't get the results, I had one-off drives here and there, but my universe at the time wasn't going in the right direction.
"Motor racing is very tough, you've got to find lots of money, and we weren't a wealthy family, so I needed to do something exceptional to get those works drives."
So he turned to the power of his mind.
He went on a course to learn the Silva method of mind control - with dramatic results.
"One winter I learnt how to meditate and problem-solve, and I learnt how to really focus on what I want to achieve," he said.
Silva method of mind control
Founded in 1966 by Jose Silva, a television repairman from Texas, who had an interest in hypnosis and the workings of the human mind
Users aim to get into an 'alpha' state of brain function - similar to when you are just about to fall asleep
Once in this state users focus on a particular goal, such as winning a race
"I knew that in the following year I had enough sponsorship to do a full season, my first ever full season in circuit racing, and I knew that if I wanted to achieve something very special in my career, I needed to do something exceptional.
"So I went about focusing on winning every single race and I managed to achieve that the following year."
So from an also-ran in Formula Three, Priaulx's new-found psychological edge and confidence saw him move to the Renault Spider Cup in 1998 and totally dominate the series a year later.
"That was 100% down to my meditation and my mindset to win every single race, and that was my springboard onto bigger and better things," he added.
It led him on to a couple of seasons in Formula Three, before he made the move to touring cars in 2001 - the series where he has made his name.
The stereotypical image of mediation may be someone sitting cross-legged in a sedate surrounding - motor racing is far from that - so how does Priaulx put his method into practice?
"We'd all love to go to some Buddhist temple and sit there for a week just meditating, but that's not possible," he says.
"For me it's about grabbing those moments if you're on a plane or sitting at home and just relaxing, concentrating on your breathing and maybe having five minutes just trying to be non-thinking, which is very, very hard.
"But you gradually practise it and you gradually learn to quieten down that monkey mind, that inner voice that's chattering away and trying to distract you from what you want to achieve in life and trying to put you off your flow."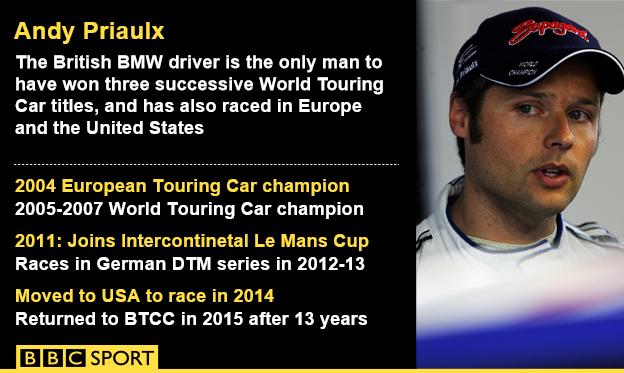 And it seems to have worked for Priaulx.
He won the European Touring Car title in 2004 - widely seen as the best series around at the time.
In 2005 he won the inaugural World Touring Car Championship, a title the BMW driver retained for the subsequent two years - and Priaulx believes it was down to him "leaving" his conscious mind and letting his subconscious "drive" the car.
"I had to get that result, I had to pass the car ahead, I had to do the perfect laps," he added.
"It's a point where your conscious mind is not really working anymore, you're purely instinctive and you're in that state of mind which really for me, is almost the safest point when I'm in a race car.
"My awareness is so pure, I have no distractions and I have absolute pure intuitive driving, and that's when I'm at my safest in a race car and, funnily enough, when I'm at my most committed as well."
Priaulx is one of those rare creatures who has had a successful professional motor racing career for 16 years. So when he finally hangs up his helmet, will he also put meditation to the back of his mind?
"It's something I will continue to do for the rest of my life and hopefully pass on to other sports stars, family and everybody else in the future," he said.
"I hope my life beyond my racing career becomes even more successful, so I'm going to need it."