M-Sport's unlikely road to World Rally Championship success
By Simon Armstrong
BBC News
Last updated on .From the section Motorsport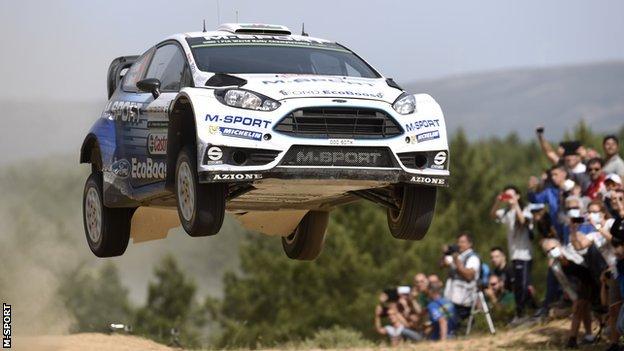 When motor giant Ford withdrew its multimillion-pound backing for Cumbrian-based World Rally Championship outfit M-Sport in 2012, team boss Malcolm Wilson faced his biggest challenge.
Having clinched two world titles together, the loss of manufacturer support meant job losses at his 200-strong operation and left the team at a worrying crossroads.
"That was a real body blow," says former British champion Wilson recalling the fateful day when the Blue Oval broke the news it was pulling the plug on its sporting programme.
"We'd literally just won Rally GB. I got the phone call the day after. That was huge - probably the most difficult period in my business life. I had to advise the staff and there were some casualties."
Yet with a budget that pales in comparison to that of big-name rivals such as Volkswagen, they have somehow managed to maintain their competitiveness among the sport's elite and are fourth in the current constructors' standings.
It is all the most remarkable as it is achieved 200 miles from 'Motorsport Valley' in southern England - home to a high number of teams and thousands of firms in the supply chain network.
So just how do they fight on a global stage based, as they are, two miles outside Cockermouth, a town famous for its links to poet William Wordsworth and proximity to the picturesque Lake District fells?
'I never doubted'
Central to the team's success has been the 115-acre Dovenby Hall where historic buildings, previously used as a mental hospital, house state-of-the art engineering facilities.
Its aircraft hangar-like garage sees mechanics carefully dismantle the cars of Estonian Ott Tanak and Welshman Elfyn Evans, which raced to eighth and sixth respectively in last month's Rallye Deutschland, with an impressive stage win for the latter preventing a clean sweep for table-toppers Volkswagen.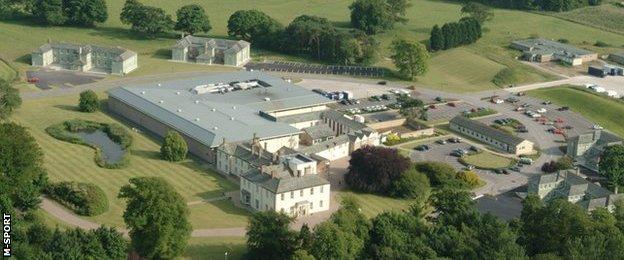 In a trophy-filled meeting room, Cockermouth-born Wilson, a long-time team and development driver for Ford, is businesslike in a smart blue suit and shirt. Calm and considered, his answers seemingly mirror the way he manages the team.
The company turned to him to run its world rally programme in late 1996 after his privateer operation defeated the works outfit.
Initially agreeing to work from its Boreham site in Essex, he convinced management figures to provide the backing for a Cumbrian base and his team of 18 became 106 by the time they rolled into Monte Carlo for the opening round of the 1997 championship.
It would mean relocating from converted farm buildings on the south side of his home town. A list of almost 30 sites proposed by Allerdale Council were ruled out before a planning officer suggested the dilapidated Dovenby properties.
"When we actually got the green light from Ford I just know what people were saying behind the scenes: 'It's impossible to run a rally team in that part of the world, it will only last 12 months, it's a big mistake on Ford's part'," said Wilson.
"But I never doubted. I've never felt it was a roadblock in any way, shape or form to doing what we do.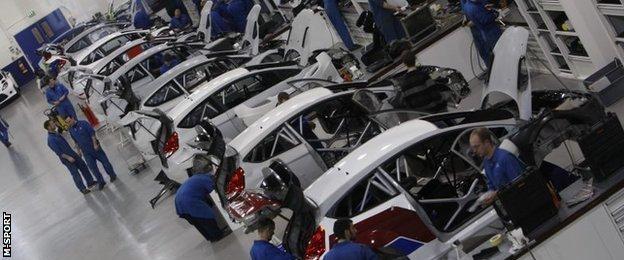 "Yes, there's an extra bit of travel to get to the airport [at Manchester or Newcastle], but I think it's a small price to pay to work in an environment like this."
Its remoteness from Motorsport Valley has other advantages.
"When you develop technology you can't keep it to yourself indefinitely," added the 59-year-old. "People talk. They always say the best teams are the ones who can do the best copying.
"It's the same in Formula 1. The guy from Williams will meet up in the pub with the guy from Marussia. We don't have any of that."
A further £19m investment, featuring a test track and composites facility, will follow by 2017 if a council-approved masterplan is upheld by a judicial review.
'As good as Maranello'
Dovenby Hall and the personnel it has attracted are towering strengths of the M-Sport operation, according to David Evans, rallies editor at Autosport and Motorsport News.
"When you get inside the place you can't believe you're not in a Formula 1 facility. It's as good as anything you'd see at [Ferrari's] Maranello or somewhere in Oxfordshire.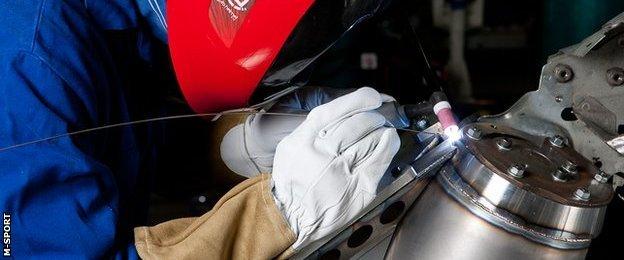 "At Greystoke Forest they have the best test facility in the world. There's no other team in the world championship with such an extensive forest area where they can run all of their cars.
"And in a guy called Christian Loriaux, Malcolm's got probably one of the finest technical engineers in the world. He moved to Cockermouth from Prodrive in Banbury.
"It's about being in a World Rally Championship team and right at the cutting edge of motorsport. Fine, they haven't got a Starbucks on every corner, but it's actually a really nice place to live.
"I can't get over the fact strongly enough Cumbria means everything to Malcolm. If it can't be done in Cumbria, it can't be done. It remains a real source of pride he can provide fellow Cumbrians with a living."
'Talent developer'
Stripped of Ford's financial muscle while retaining a technical tie-up, Wilson stepped up his efforts to make M-Sport "self-sufficient".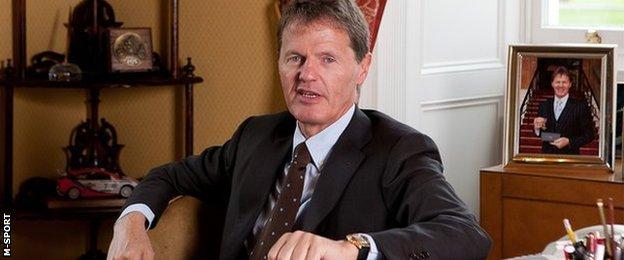 Sponsorship from Qatar came to the rescue in 2013, but the team is now largely funded through the sale of customer cars to privateer teams in categories from grass-roots to world championship level and success in the WRC acts as a "shop window".
"His budget is probably 10% of Volkswagen, a fraction," Evans reveals. "You're looking at £50m for VW and Malcolm's is way, way less than that.
"He invests in the top line to make sure it brings in the support underneath. He's selling a ferocious number of cars because people believe. They see his factory cars doing really well in the world championship and they know M-Sport stands for excellence.
"The problem he has is he doesn't have a budget to pay drivers so he can't go and get Sebastien Ogier or the WRC equivalent of Sebastian Vettel.
"Malcolm's a brilliant talent spotter and, more importantly, a great talent developer.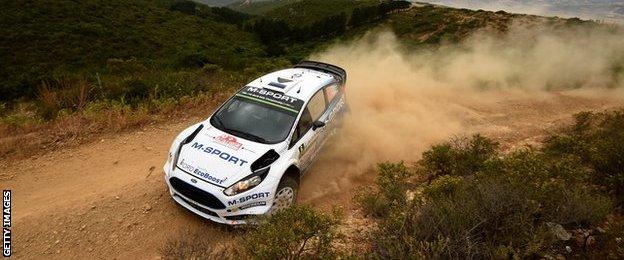 "Ott Tanak and Elfyn Evans are both absolute stars of the future, but it's a real frustration. He knows he's got a car that can win, but he can't afford a [proven] driver to drive it."
It is a far cry from when, with Ford's backing, the team reportedly made Colin McRae the highest paid rally driver in history with a salary in excess of £3m per year.
'Quite remarkable'
Fourth in the constructors' battle with four rounds remaining, Wilson is focused on his Fiesta RS WRCs overtaking Hyundai and Citroen to claim second behind VW and its all-conquering Polo.
"There's no question we've got a car that's as fast, if not faster in some areas, than the Volkswagen. If we can find a title sponsor I would probably change the driver line-up.
"You had Sebastien Loeb, who won nine consecutive world titles, and now Ogier is going to make it three this year. I've absolutely no doubt if we had him we'd be winning the same number.
"We're still in the fight for runners-up in the championship. Considering our position, it's quite remarkable."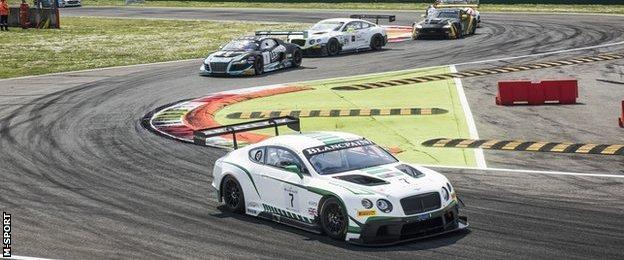 The foundation for M-Sport's survival and success had been laid as far back as late 2004 when Ford first dropped a bombshell.
"I arrived in Japan [for a round of the World Rally Championship] after an incredible trip - it took me three days, there was a typhoon," Wilson recalled.
"When I arrived to pick up my bags there was a Ford PR guy waiting for me with a press release saying they were withdrawing. Totally out of the blue.
"That was quite a period. At one point I had three telephones in my room [trying to save the partnership].
"We looked at ways to reduce the cost to them. All I'd been allowed to do up to that point was to run the two main cars and not look at doing any customer sales.
"We went on to win two world championships in 2006 and 2007."
Further revenues come from Bentley, with M-Sport's engineering expertise now enlisted for the luxury car-maker's assault on endurance racing in Europe, North America and Asia.
Despite so much resting on his shoulders, Wilson is optimistic about the future.
"I feel like we're in a position where it can only be positive," he said. "What we're lacking is manufacturer backing.
"The nice one would be Ford saying they're looking to come back in WRC. That's the sort of phone call I'm looking for now."