TT 2016: MGP record holder Mitchell-Thomas signs TT deal
Last updated on .From the section Motorsport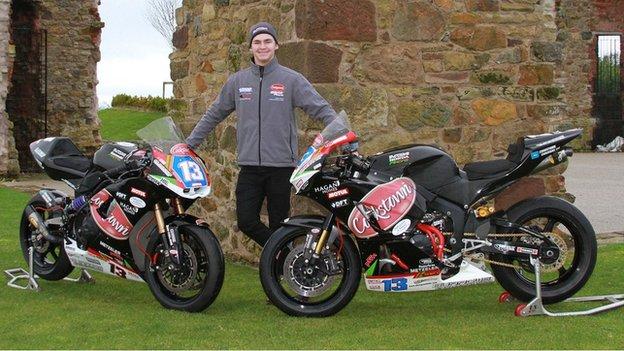 Senior Manx Grand Prix winner Malachi Mitchell-Thomas has signed for Cookstown Burrows Engineering Racing for the 2016 Isle of Man TT.
The 20-year-old from Bolton is regarded as one of the sport's brightest prospects after recording his maiden Mountain Course win in September.
His final lap of the senior race, at 122.221mph, made him the fastest man in the event's history, aged 19.
Racing manager John Burrows says he is a "truly outstanding prospect."
Mitchell-Thomas will represent the team in all three international road races in 2016 - the TT, North West 200 and Southern 100.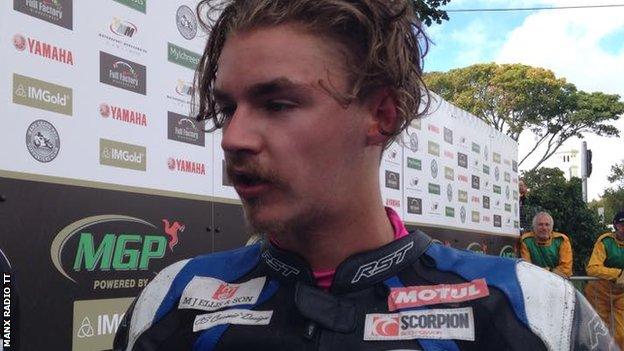 The youngest ever MGP winner said: "Next year I want to aim for a top 10 in the 600s and maybe a top 20 in the Superstock 1000s and Senior.
"In the Superstock 600 championship you leave your brain in the truck and try and go as fast as you can as if you crash it is normally just a little off.
"Here (TT) you have to be smart, do your homework and learn the track so you try and calm down before you get out there."
Burrows also confirmed that Jamie Hamilton, who whilst representing the team, will be involved.
He said: "Jamie will be involved with the team full-time this year as his recovery from injury continues and his track knowledge, and his knowledge of the machinery, will be invaluable to Malachi."
The team confirmed a second rider will represent them at the TT, but their identity was not confirmed.