Lakeside Hammers' Lewis Bridger: 'If I'd paralysed myself I'd regret it'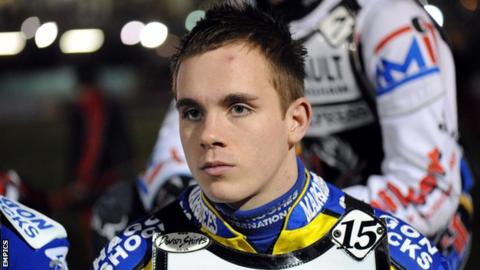 Lakeside Hammers rider Lewis Bridger took a 12-month break from speedway as he had "lost the hunger in his belly".
The 26-year-old had been professional for nine years before his break.
"The way I looked at it was if I was laying on the track, paralysed myself and didn't have the desire to be a Grand Prix rider or world champion then I'd regret it," he told BBC Essex.
"Now I'm hungry - if anything happened like that I'd know it's what I wanted to do and not so much to suck up."
Bridger said he used the break from the sport to get over a past relationship and is now expecting a baby with his current partner.
In a bid to get fit again, he has lost 10kg and was winning motocross races before agreeing a return to the Elite League.
"My training is becoming so much easier because I feel like I'm doing it for myself, I'm not doing it for the satisfaction of other people watching me put my life on the line.
"I'm enjoying putting the hard graft and diet in because I want to get back on a bike and be successful."