Ross Martin, 16, tipped to have bright future in motor racing

By Kenny Crawford
BBC Sport Scotland
Last updated on .From the section Motorsport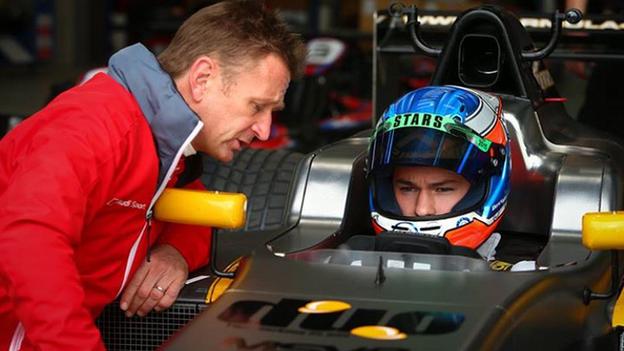 A plate of spaghetti bolognese and an episode of The Simpsons.
For 16-year-old Ross Martin, that sounds like a good way to spend half an hour.
But spare time is scarce for the Balfron High School pupil, as he endeavours to build on signs of early promise in the world of motor racing.
Allan McNish, three-time winner of the 24 Hours of Le Mans, has already tipped Martin to have a serious chance of being the next big Scottish thing in the sport.
Predictions like that have come about because of the Gartocharn teenager's superb showing in the highly respected 2015 Formula Kart Stars Championship, which he won thanks to seven wins and nine podium finishes from 10 starts.
It is a competition that the likes of Lewis Hamilton, Bernie Ecclestone and Sir Frank Williams have gone on record to endorse.
"That was a huge step in my career," said Martin, who first experienced karting as a seven-year-old during a family holiday to Cyprus.
"It was a great championship for me in 2015 and the success I had was just phenomenal.
"Bernie Ecclestone is a well-known man in motorsport and Lewis Hamilton's been through that championship. I enjoyed my season and it's now taken me on to car racing."
Martin's prize for that triumph is a fully-funded season in the MSA Formula Championship, meaning he progresses from karts to a Formula 4 car with Fortec Motorsport.
From April until October, 10 weekends of racing will take him to famous circuits like Silverstone and Donington Park, as well as a trip closer to home, to Knockhill.
Pre-season testing in Spain and Holland has provided encouraging results as he makes the transition.
"The new challenge for me is that it's an actual racing car," Martin told BBC Scotland.
"I have gears to worry about, I have the width of the car to worry about and the whole safety of it as well - it's a lot faster a car.
"For me to jump into the car is a big step in my career but I feel that I've definitely got used to it.
"I've got to focus purely on 2016. I'll be a rookie driver and there will be a few two- or three-year drivers in it.
"For me the goal is to win it and have my FIA points and my licence to hopefully go towards the super licence. Then I can try and get my name out there if I'm at the FIA awards."
The confidence bestowed in Martin by McNish gives the West Dunbartonshire youngster a "great buzz", but it is not the only link he has to some of the Scottish motorsport greats.
Sir Jackie Stewart hails from Milton, just 12 miles from where Martin lives with his dad John, mum Joanne and older sister Gemma.
"Every time I travelled down south to race go-karts I would pass Sir Jackie Stewart's old garage and his old house," said Martin.
"I'd look there and say 'wow, look where he's got to from here' and I really want to do the same.
"I know Jackie's family well too. They've told me just to keep pushing and make the Scottish people proud.
"Allan McNish came on board with me when I was about 12. A guy called David Boyce helped run me and also helped run Allan and David (Coulthard) when they were my age.
"So Allan said he would like to point me in the right steps. He's been a great help and if it wasn't for him I probably wouldn't be where I am now."

Martin's unique racing helmet for the 2016 MSA Formula season has also come about thanks to some other Scottish racing links.
It was custom designed by Stefan di Resta, brother of Paul di Resta, who has been named Williams' reserve driver for the 2016 Formula 1 campaign after three seasons with the Force India team between 2011 and 2013.
Martin is not yet old enough to drive a normal car, but at 16 he is old enough to know his future career will involve four wheels somehow, even if it is not in professional realm.
"I'm just purely based on motorsport," said Martin, who will soon leave school and is extremely grateful for how his teachers have helped him accommodate racing with his studies.
"Cars, engines - anywhere there I would enjoy. Even being a mechanic working with and around cars.
"Formula 1 is the goal, like a lot of young kids will say, but I'd love to equal Allan's record at Le Mans - winning three.
"Le Mans is almost like an F1 season in one race. It's pure racing and everyone's working hard for 24 hours."
That would certainly leave no time in the day for spaghetti bolognaise and The Simpsons.