Italian Grand Prix: Marc Marquez says security concerns are overblown
Last updated on .From the section Motorsport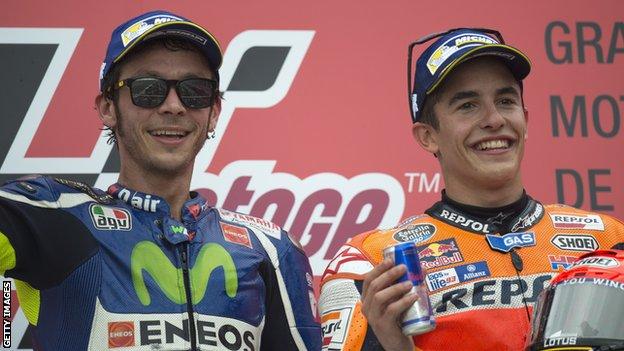 Marc Marquez says security concerns over how he and fellow Spaniard Jorge Lorenzo will be received by fans at the Italian Grand Prix have been overblown.
MotoGP has provided bodyguards in anticipation of a reaction to a feud that developed between Marquez, 23, and Italian Valentino Rossi, 37, last year.
At its height Rossi accused Marquez and Lorenzo, 29, of conspiring against him as part of a "Spanish stitch-up".
But Marquez said: "Since I got to Italy all I've been asked for is autographs."
He added: "I will have the normal security that I have at all circuits but I don't want bodyguards. It's unnecessary and I don't want motorcycling to reach this point.
"I want a normal atmosphere. I have faith in this sport, where the atmosphere is healthy."
The feud relates to an incident last season when nine-time winner Rossi was ordered to start the final race of the season from the back of the grid after knocking Marquez off at the Malaysian Grand Prix.
He was also given a three-point penalty, and later accused Marquez of "making me lose the championship".
The sport's president Vito Ippolito described the atmosphere as "poisoned" before the final race in Valencia, where Lorenzo claimed the world championship ahead of Rossi.
The Mugello circuit in Tuscany, Italy, which will hosts the sixth round of the season on Sunday, usually attracts tens of thousands of Rossi fans.