Kris Meeke: Dungannon driver ready for 2017 World Rally Championship campaign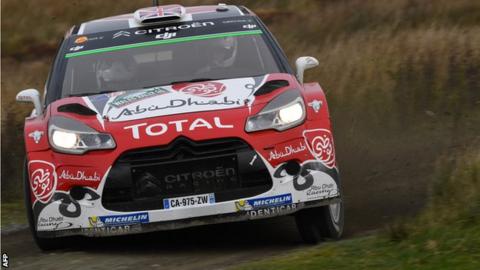 Kris Meeke and Craig Breen have been in Abu Dhabi as Citroen launched their car for the 2017 World Rally Championship.
Rule changes mean Citroen have switched from the DS3 model to the C3, with the new car tipped to challenge strongly in the 2017 series.
Despite running reduced schedule in 2016 as the team prepared for the rule changes, Meeke, 37, still charged to victories in Portugal and Finland
Waterford man Breen and Stephane Lefebvre complete Citroen's line up.
Dungannon driver Meeke will again by joined by his county Kerry navigator Paul Nagle in 2017.
Meeke said he is "excited" as the new season approaches.
"We want to get to the stages and just enjoy it, to be honest," said the Tyrone man.
"We've shown, in fact, that when we do that - just enjoy it - the speed and results can come.
"I tend not to set targets. We all know my ultimate ambition is to be the World Champion, naturally, but I'm not setting myself specific goals beyond that."