John McGuinness 'overwhelmed' by fan support following NW200 crash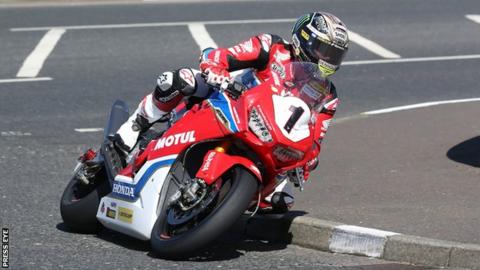 John McGuinness has said he has been "absolutely overwhelmed" with fans' support following a crash at the North West 200 in Northern Ireland.
The 45-year-old racer from Morecambe broke four vertebrae, three ribs and fractured his leg.
The Honda rider tweeted: "Me & my family have been absolutely overwhelmed with the support from the fans."
The Englishman's injuries mean he will be unable to compete at this year's Isle of Man TT races.
The TT begins with a week of qualifying on 27 May before competition starts on 3 June.
His 23 wins place him second in the all-time TT list behind the legendary late Joey Dunlop, who won 26 times.
In a second tweet he said it is going to be a "long road to recovery" and that he was "sorry to let everybody down."
McGuinness is being treated at Belfast's Royal Victoria Hospital.
The Honda Racing rider crashed at Primrose Hill during last Thursday's Superbike qualifying.
The team, which also includes Guy Martin, immediately withdrew from the North West 200.
Organisers said: "John has competed at the North West 200 since 1994 and is one of road racing's greatest ambassadors.
"We would like to offer him a very speedy recovery from his injuries."