Nicky Hayden: Ex-MotoGP champion remains 'extremely critical' after accident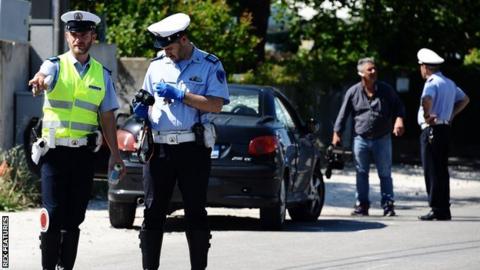 Former MotoGP champion Nicky Hayden remains in an "extremely critical" condition after suffering "serious cerebral damage" in a crash while cycling on Wednesday.
The American, 35, collided with a car on the Rimini coastline in Italy.
He is in the intensive care unit of Cesena's Maurizio Bufalini Hospital and has his family by his side.
"His condition is still extremely critical," a statement released by the hospital on Friday said.
"The prognosis stays reserved."
Hayden, who has been racing for Red Bull Honda's World Superbike team, won the MotoGP championship in 2006.
He had raced in the World Superbike Championship in Italy last Sunday.
On Thursday, the hospital confirmed Hayden had "suffered a serious polytrauma with subsequent serious cerebral damage".
Polytrauma is a medical term to describe the condition of a person who has multiple traumatic injuries.