Isle of Man TT 2017: Practice due to begin after bad weather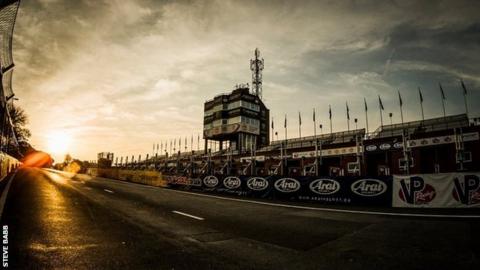 Riders from all over the world should begin practice for this year's Isle of Man TT on Tuesday after the opening two sessions were cancelled.
Both Saturday and Monday's scheduled sessions were called off due to a combination of thick mist and heavy rain.
Clerk of the course Gary Thompson cancelled Monday's session with no chance of the track drying in time.
Tuesday's session is scheduled to get under way at 18:20 BST
Manx Radio TT presenter Tim Glover said riders had already completed 778 practice laps by this time in 2016.
All roads around the 37.75-mile (60km) TT course will close to traffic at 18:00 BST, with the mountain section closing an hour earlier.
Practice will be held each evening ahead of the opening racing on Saturday.
The TT sees riders reach speeds in excess of 200mph on closed roads.
Last year, more than 40,000 fans travelled to the island for the festival, which has been running for 110 years.
Isle of Man TT race schedule
Saturday 3 June 11:00 BST
Superbike (Six laps)
Saturday 3 June 14:00 BST
Sidecar 1 (Three laps)
Monday 5 June 10:45 BST
Supersport 1 (Four laps)
Monday 5 June 14:15 BST
Superstock (Four laps)
Wednesday 7 June 10:45 BST
Supersport 2 (Four laps)
Wednesday 7 June 14.15 BST
Lightweight (Four laps)
Wednesday 7 June 16:20 BST
TT Zero (One lap)
Friday 9 June 10:15 BST
Sidecar 2 (Three laps)
Friday 9 June 12:30 BST
Senior (Six laps)