Isle of Man TT: Injured McGuinness receives hero's welcome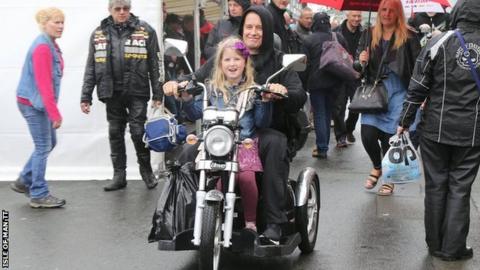 English racer John McGuinness has made an emotional return to the Isle of Man despite being ruled out of this year's TT races through injury.
The 45-year-old racer from Morecambe broke four vertebrae, three ribs and fractured his leg in a crash at the North West 200 last month.
He travelled to the island ahead of Sunday's opening race with fans on the ferry from Lancashire.
"It was amazing," he said. Everyone stood up and clapped."
The Honda racer is the second most successful racer in the event's history and his 23 wins place him just three behind all-time record holder Joey Dunlop.
"The fans' reaction means a lot. I've been in tears a few times in the last couple of weeks and it's things like that make me feel emotional."
The Honda Racing team have not replaced McGuinness at the event but Guy Martin will represent the team.
A Honda spokesman said: "Out of respect for McGuinness' long-standing relationship with Honda, the team has made the decision not to replace him aboard the Fireblade at the Isle of Man TT.
Following a weather-disrupted practice week the opening Superbike six-lap Superbike race will be held on Sunday at 14:00 BST.