Isle of Man TT 2017: Ben and Tom Birchall win and set new lap record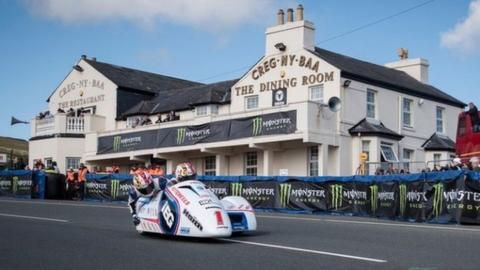 Former world champions Ben and Tom Birchall stormed to their fifth TT win in the opening sidecar race of the week on the Isle of Man.
The brothers from Mansfield set a lap record on their second lap of the race of 117.119mph, finishing 25.669 seconds ahead of John Holden and Lee Cain.
Dave Molyneux and Daniel Sayle finished third a further 18.717 seconds behind.
Ben Birchall said: "Good bike, great team, it's all there. It could not have gone better."
He added: "We could have gone quicker on the last lap but it got really wet at the top of the mountain.
"Thanks to everyone that helped us. Another win at the Isle of Man and it was perfect."
The Birchalls led Holden and Cain by 12.124 seconds after lap one, who in turn were 7.738 seconds ahead of Molyneux and Sayle.
They built their advantage to 24.934 seconds on lap two of the three-lap race - setting the fastest-ever lap of the Mountain Course for a sidecar.
Holden said: "Dave and I had a proper scrap out there and Lee was a proper star. It was a great race."
Molyneux completed his 50th TT, achieving his 30th podium.
Alan Founds and Jake Lowther finished fourth, Tim Reeves and Mark Wilkes fifth and Peter Founds and Jevan Walmsley sixth.
Subsequent practice sessions were cancelled on Monday because of rain and fog around the course.