MotoGP: Marc Marquez earns win in Germany to take series lead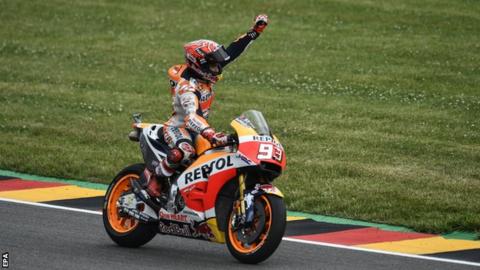 Reigning world champion Marc Marquez won the German Grand Prix to move to the top of this year's title race.
The Spaniard started from pole position and went on to earn his second victory of the season.
He held off Germany's Jonas Folger, who was second as he earned a first podium finish, with Dani Pedrosa third.
Marquez has 129 points and becomes the fourth leader of the championship this season, with 10 points separating the top four.
Spain's Maverick Vinales, who finished fourth in Germany, is second on 124, while Italy's Andrea Dovizioso dropped from first to third on 123 points after he was eighth at the Sachsenring.
Valentino Rossi, of Italy, was fifth and is fourth in the standings on 119 points.
German MotoGP result:
1. Marc Marquez (Spa/Honda) 40 mins 59.525 secs
2. Jonas Folger (Ger/Yamaha) 41:02.835
3. Dani Pedrosa (Spa/Honda) 41:11.071
4. Maverick Vinales (Spa/Yamaha) 41:13.778
5. Valentino Rossi (Ita/Yamaha) 41:14.505
6. Alvaro Bautista (Spa/Ducati) 41:16.059
7. Aleix Espargaro (Spa/Aprilia) 41:19.261
8. Andrea Dovizioso (Ita/Ducati) 41:19.713
9. Johann Zarco (Fra/Yamaha) 41:20.663
10. Cal Crutchlow (GB/Honda) 41:23.735
Championship standings:
1. Marc Marquez (Spa/Honda) 129 points
2. Maverick Vinales (Spa/Yamaha) 124
3. Andrea Dovizioso (Ita/Ducati) 123
4. Valentino Rossi (Ita/Yamaha) 119
5. Dani Pedrosa (Spa/Honda) 103
6. Johann Zarco (Fra/Yamaha) 84
7. Jonas Folger (Ger/Yamaha) 71
8. Danilo Petrucci (Ita/Ducati) 66
9. Jorge Lorenzo (Spa/Ducati) 65
10. Cal Crutchlow (GB/Honda) 64