Isle of Man Festival of Motorcycling: Bruce Anstey and Josh Brookes take Classic TT wins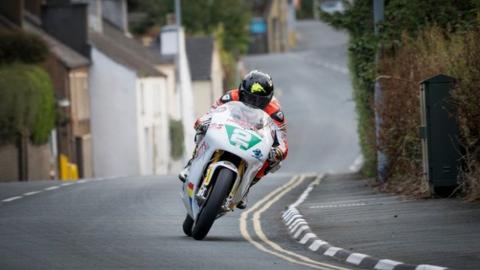 Bruce Anstey and Josh Brookes took Classic TT wins on the first day of racing at the Isle of Man Festival of Motorcycling.
New Zealand's Anstey repeated last year's win in the Lightweight Classic TT in record-breaking style, beating Ian Lougher and Ivan Lintin.
Australian Brookes, meanwhile, secured his maiden success around the Mountain Course in the Senior Classic.
Brookes led from the start, with Jamie Coward second and William Dunlop third.
Riding a Team Winfield Paton, the former British Superbike champion had a 34-second cushion over Coward by the end of the race.
Anstey's margin of victory over Rutter was an even more comfortable 70 seconds, with Lougher a further 13 seconds behind in third.
The New Zealander broke the outright 250cc lap record on his opening lap, becoming the first rider to complete a 250cc lap in under 19 minutes.
The multiple TT winner followed that by becoming the first 250cc rider to post a 120mph lap on his second circuit, and also broke his own race record by more than a minute.
Michael Rutter finished second behind Anstey, but was later excluded from the results following a technical infringement, moving Lougher up to second, with Lintin third.