Isle of Man Festival of Motorcycling: Rutter wins Junior Classic TT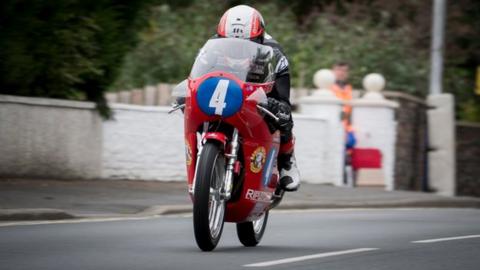 English racer Michael Rutter claimed victory in the Junior Classic TT on the second day of racing at the Isle of Man Festival of Motorcycling.
The 45-year-old from the West Midlands took the chequered flag by 10.252 seconds, ahead of Lee Johnston after the three-lap race.
The 350cc Ripley Land Racing Honda mounted rider said: "It's been a tough week and this result is brilliant."
Jamie Coward completed the podium places 13.905 seconds down on Johnston.
He said: "The bike was an absolute dream. All credit to the team. I hope everyone out there likes the noise on the MV [Agusta]".
Rutter, who last won the race in 2015, added: "I just got my head down.
"There were a lot of damp patches pit there and you've really got to throw these bikes into the corners. I'm made up to take the win."
Dominic Herbertson finished fourth, Alan Oversby fifth and Dean Harrison completed the top six.
The junior race had been scheduled for Monday but was delayed because of poor visibility and saturated roads on the Mountain Course.
The four-lap Superbike Classic TT Race will be held later, followed by the Manx Grand Prix Newcomer's races.
Tuesday's schedule
12:00 BST - Junior Classic TT Race (three laps)
13:40 - Classic Racer Magazine Classic TT Retro Parade (one lap)
13.50 - Steve Plater Honda Six Parade lap (one lap)
14:40 - Superbike Classic TT Race (four laps)
17:00 - Roads open around the course
18:00 - Roads close around the course
18:15 - Manx Grand Prix Newcomers Race (A&B) (three laps)
19:40 - Manx Grand Prix Junior & Lightweight Qualifying (one lap)
20:10 - Roads scheduled to open around the course