Manx Grand Prix 2017: Vicars and Wilson win Manx GP races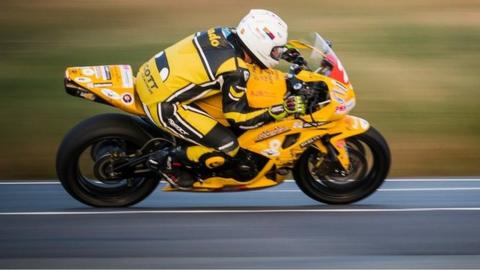 English racer Brad Vicars has won a record-breaking opening race of the 2017 Manx Grand Prix held on the Isle of Man's TT course on Wednesday.
The Tadcaster man stormed to victory in the Newcomers Race A, to follow in the footsteps of names such Ian Hutchinson, Michael Dunlop and Carl Fogarty.
The Honda-mounted rider said he was "over the moon".
Vicars set a new lap record on his opening circuit and ended the three-lap race with a nine-second winning margin.
Darryl Tweed finished second with Stephen Parsons third.
Vicar's compulsory pit-stop was 11 seconds quicker than Tweed's at the end of the second circuit of the Mountain Course.
The race had been red flagged on the opening lap after an accident at Braddan Oak involving Nicolo Capelli.
The Swiss rider was taken to hospital and was reported to be in a "serious condition with leg fractures."
Irish rider Derek Wilson won the concurrently run Newcomers B race by eight seconds, despite picking up a 30-second penalty for speeding in the pit lane.
He finished ahead of New Zealand's Ben Rosendaal and local rider Lee Bass.
Jimmie Guthrie started the race fifty years after he won the Senior Manx Grand Prix in 1967.