Manx Grand Prix 2017: Evans and Cooper win Manx GP races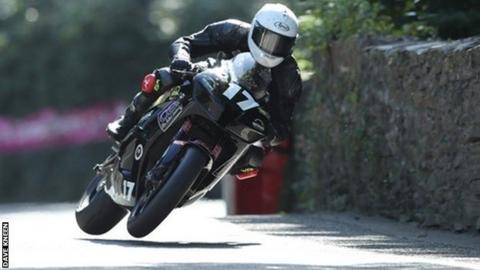 Michael Evans has won the Junior Manx Grand Prix after it was re-started following a crash involving Australian rider Royce Rowe.
The Santon man, 24, finished 22 seconds ahead of Preston's Darren Cooper at the end of the shortened three-lap race with Jamie Williams from Douglas third.
Evans, who also posted a new lap record at 120.619mph, said he was "delighted."
The race was red-flagged after Rowe hit a lamppost at Union Mills bringing it down onto the course.
Organisers said the Adelaide racer has now been transferred to a hospital in the UK with multiple arm and leg fractures.
The 23-year-old was in second place at the time of the accident.
The race was later re-started after the course had been cleared of debris and fuel and the damaged lamp post made safe.
Meanwhile, Cooper won the afternoon's Lightweight Manx Grand Prix ahead of Irish racer Andrew Farrell.
The Kawasaki-mounted 37-year-old finished 27.986 seconds ahead of Farrell with Welshman Barry Lee Evans third.
Cooper said: "It's absolutely mega. I can't believe it. It was a great race and I really got my head down on the last lap."
Spain's Victor Lopez Santos finished three seconds down on Evans in fourth.
The final race of this year's meeting, the Senior, will be held on Friday.