Danica Patrick: Nascar star to quit full-time racing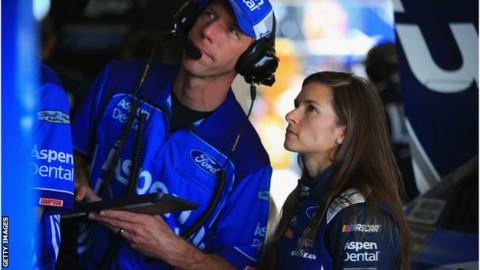 Danica Patrick, the only woman to win an IndyCar race, says this will be her final season as a full-time racer.
The American, 35, says she will be "done" after competing in next year's Daytona 500 and Indianapolis 500.
Patrick was the world's fourth highest-earning sportswoman in 2016, behind tennis' Serena Williams and Maria Sharapova, and MMA's Ronda Rousey.
"I feel like this is where my life should be headed," a tearful Patrick told a news conference.
"I am done after May."
Patrick, who earned just under $14m (£10.5m) in 2016, is the only woman to have led laps in both the Daytona 500 and Indianapolis 500 and is regarded as the most successful female in US motor racing history.
However she had struggled to find a sponsor at the start of the season and said this had made her think about her future.
She won her solitary IndyCar race in Japan in 2008 and in 2011 switched to Nascar racing. In 2013 she became the first female driver to win a Nascar Sprint Cup Series pole, clocking the fastest qualifying lap since 1990.
"What I've always wanted is to just be remembered as a great driver, then remembered as a girl," she said.