Dakar Rally 2018: Carlos Sainz wins race for second time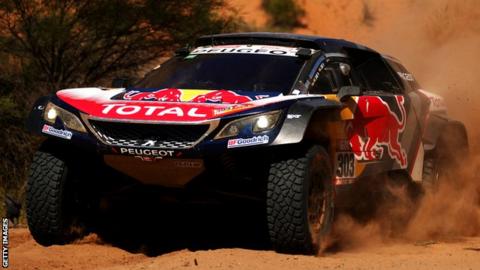 Carlos Sainz won the Dakar Rally for the second time as he drove his Peugeot to victory in Argentina on Saturday.
The Spaniard, 55, and compatriot co-driver Lucas Cruz finished ahead of Qatar's two-time winner Nasser Al-Attiyah in a Toyota.
The double world rally champion first won in 2010 with Volkswagen.
His latest victory brought the Peugeot works team a third win in a row - and also their last as they have already announced they will not compete again.
Sainz held a 46-minute advantage over Al-Attiyah before the final stage and, despite finishing the stage ninth, held off his rivals to win by 43 minutes 40 seconds.
"[Peugeot] have already won two times, but I think I deserved this victory because we have put a lot of effort into this car," he said.
"I had ups and downs, but I always tried my best. Especially this rally, it has been so, so hard.
"At the beginning I said we'll take it a little bit easier, but Peugeot said we'd have to go flat out. I raced a couple of days and pushed really hard, but then the race was a case of not making mistakes."
Sainz's son, Carlos Jr - who drives for Formula One team Renault, posted his congratulations on Twitter.
"I am probably the proudest son of his father in the whole world. Winner of the toughest @dakar ever done in South America at 55 years of age (good number) and he did it in his own way," said Sainz Jr, who races as number 55.
South African Giniel de Villiers finished third in a Toyota.
Austrian Matthias Walkner, last year's runner-up to British team-mate Sam Sunderland, won the motorcycle category for his first Dakar victory and KTM's 17th in a row.
Russia's Eduard Nikolaev won the truck category in a Kamaz for the second year in a row and third time in total.
Chilean Ignacio Casale won the quadbike title for the second time.