Carl Fogarty: British success in MotoGP 'a long time coming'
Last updated on .From the section Motorsport25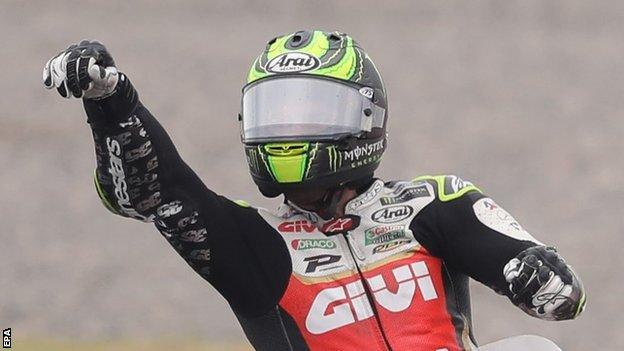 Former World Superbike champion Carl Fogarty says British success in MotoGP has been "a long time coming".
Cal Crutchlow's win in Argentina two weeks ago means a British rider leads the standings in the premier class of motorcycle grand prix racing for the first time in 38 years.
Crutchlow has started the season superbly on his LCR Honda, and Fogarty believes the 32-year-old can win more races this season.
"These next two or three rounds will determine what sort of season Cal can have," Fogarty told BBC Sport.
"Has he got the consistency? That's one thing he has lacked.
"So far his winter testing and results in his first two races say that he's up there and if he finishes in the top six in the next two races he could have a great year."
Fogarty also believes fellow Brit Jonathan Rea will win a fourth World Superbike title this season and take his overall wins record in the process.
'Cal can win more races'
There were a remarkable 589 races between Barry Sheene topping the standings after winning the opening race of the 1979 season and Crutchlow leading the field after his win in Argentina.
Crutchlow ended the 35-year wait for a British winner in the sport with his first victory in Brno in 2016, and he now has three wins to his name going into this weekend's race in Austin, Texas.
The next landmark to fall is a first British champion since Sheene's second title in 1977 - but Fogarty concedes that may be beyond Crutchlow this season.
"Cal is leading the championship, I can't believe that and I don't think even he knew that until he crossed the line in Argentina," Fogarty said.
2018 MotoGP standings (after two races)

Cal Crutchlow (GB)
38 points

Andrea Dovizioso (Ita)

35 points

Johann Zarco (Fra)

28 points

Maverick Vinales (Spa)

21 points

Marc Marquez (Spa)

20 points
"There's no reason why he can't win more races. You want to be winning races if you're out there and Cal's no different.
"His bike's good enough, his team's good enough and he has shown that he is good enough. It's down to him. He's a confident lad, a bit like myself.
"He wants to win more than he has been. I'd like to see him win a race in ideal conditions from start to finish, the ones he has won have been in iffy conditions.
"But it's great that Britain has finally got a guy winning races in GPs. I didn't go and race there, I'm pretty confident that I would have been winning races and challenging for the title, there's no question of that. It's been a long time coming."
'It's about time Rea broke my records'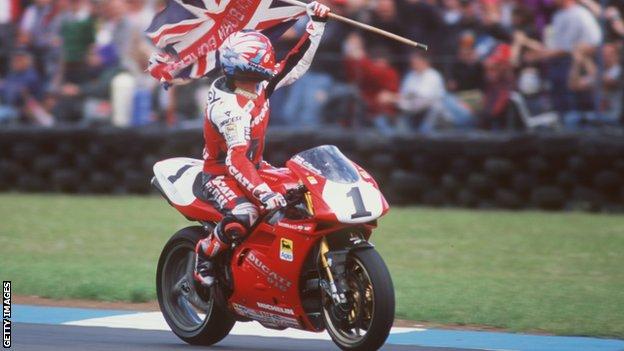 Fogarty competed in a handful of grands prix in his career, but found most of his success in World Superbike racing, winning a record 59 races and four titles in the 1990s.
Rea is just three wins behind that record after a remarkable run of form which has seen him triumph in the last three seasons for Kawasaki, winning 41 of the last 84 races in the process and finishing second behind Mo Farah in last year's Sports Personality of the Year award.
"I've held the record for 20 years or something, it's about time he beat it!" says Fogarty.
"I'm not that impressed with my own records to be honest, I've always felt that I should have won a lot more races and more world titles. If my career hadn't been cut short by injury, if I hadn't made some silly decisions and joined the wrong team, things like that, who knows.
"If Jonathan had won the first five races this year he would have reached the record in the same number of races as I completed, so he can't now. I've got one on him!
"I'm a big fan of his, he knows that. He will win the title again this year, it might be a bit tougher than he thought but that consistency that he has is phenomenal. The best rider needs the best bike and the best team. If one of those three ingredients isn't right than you won't win - and he has got that at Kawasaki."
Fogarty believes that it is now too late for the 31-year-old Rea to move into MotoGP, meaning - like Fogarty himself - he is likely to continue to dominate the Superbike class.
With Rea and Crutchlow at the top of their game, British biking has rarely had it so good. But how good are they?
"They are the two top guys that Britain have had for quite a few years now," Fogarty says.
"I was on my own as Britain's number one for seven or eight years but Rea and Cal, they've been the two best riders, it's a shame they are both in different championships as I don't know which one is the best!
"They are both guys I really like a lot and have a lot of respect for. It's looking good from a British point of view at the moment.
"It's always hard to compare different riders from different eras. If you put Cal in the 1960s on the same bike as Mike Hailwood, would he beat him? Nobody will ever know. All you can do is be the best of your time. I was the best of my time and Cal and Jonathan Rea are the best of their time right now.
"Where that stands them in the history books? People will always argue about that."