Kris Meeke: Is his WRC career over after Citroen drop him for the rest of 2018?
Last updated on .From the section Motorsport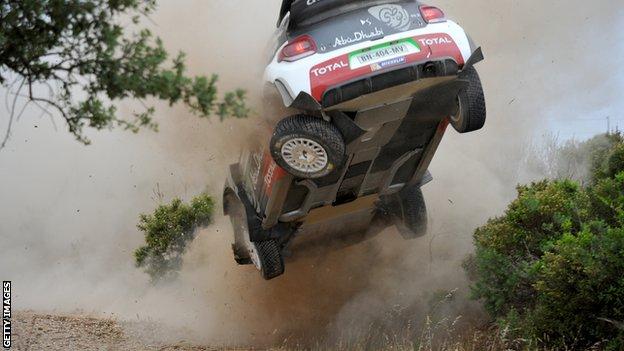 Not even a thank you or goodbye. In a flash, Kris Meeke's season with Citroen was over.
Motorsport is a ruthless business, but Citroen's announcement that Meeke and co-driver Paul Nagle were to have their 2018 contract terminated due to an "excessively high number of crashes" left observers with dropped jaws.
Citroen saved Meeke's WRC career after Prodrive's exit had left the Northern Irishman on the scrapheap at the start of the decade.
A part-time deal for 2013 was a life-line, and despite a run of incidents the French firm offered him a full-time drive for 2014. Four podiums showed potential in the relationship.
More success followed in 2015, where Meeke took his first WRC win in Argentina, becoming the first Briton to triumph in the championship in 13 years.
Two more victories followed in Portugal and Finland in 2016 with Meeke, in his new C3 car, then clinching one of the most dramatic wins in WRC history in Mexico last year but the relationship was beginning to turn sour.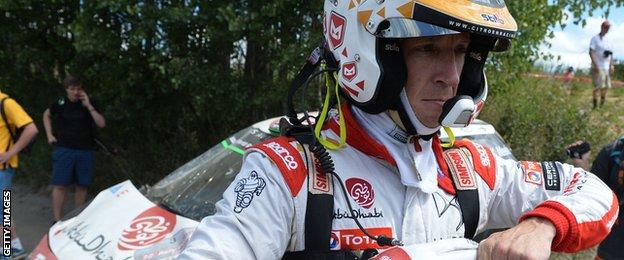 The inevitable end of an unhappy marriage?
Three months after that Mexico win, when he almost threw away victory in the final kilometre by sliding off the road in a spectator car park, Meeke was dropped for Rally Poland following a series of premature exits.
The relationship with team boss Yves Matton and Citroen appeared at breaking point, and while the Northern Irishman was driving a flawed car on the limit, he had paid the price for overstepping the limit too often.
Two rallies after his demotion, Meeke was back on top of the podium in Spain with a commanding win.
However, when Matton left the team and was replaced by Pierre Budar question marks began to show once more.
Matton, despite their differences, was a supporter of Meeke's talent but Budar was a fresh face and not afraid to shake things up.
Craig Breen, Andreas Mikkelsen, Mads Ostberg and even legendary nine-time world champion Sebastien Loeb struggled to control the car.
Meeke said in an interview at the start of this season that he was the only one truly putting his neck on the line to get the results.
Why this season?
This season, the Tyrone man has again lacked consistency with a serious title challenge has not amounted to anything.
After dragging the car to an impressive fourth place in Monte Carlo with a measured drive, a position the car had no right to be in, problems arose in Sweden after Meeke touched a snow bank and the car was forced to retire.
Mexico provided his only podium this season then Nagle miscalled a pace-note in Corsica, sending the crew straight on in a tight left when on track for back-to-back rostrums.
He was once more in podium contention in Argentina before a puncture dropped him down the order, and then Meeke openly held his hands up about the Portugal crash but he was already out of the running thanks to two punctures when leading earlier in the event.
Portugal crash resembled road safety ad
Looking at the pictures from the Rally Portugal crash, it's a miracle how Meeke and Nagle escaped unhurt. It resembled something from a hard-hitting road safety advertisement.
Perhaps the images of the battered C3 proved to be one step too far for the French firm.
But in truth, it isn't that Meeke has been throwing away winning positions.
He has been wringing the neck of a machine that is lagging behind the other manufacturers, and the incidents are a by-product of trying to get car to do something it is not capable of.
By his own admission, he has been at fault for many of the accidents, but his cause was not helped.
Citroen decision takes Meeke by surprise
There has been controversy about the manner of Meeke's dismissal.
The Northern Irishman posted an update on his Facebook page, saying how he was looking forward to testing ahead of the next round in Italy, just eight minutes before Citroen's out-of-the-blue statement.
Pointedly, Citroen did not not thank Meeke and Nagle for their efforts, despite being the team's only WRC event winners in five years, or wish them the best for the future.
The day after Portugal Budar had said that "the team remains united".
Did Budar have a change of heart in the past week or did someone further up the pecking order in Citroen intervene?
Meeke's only response thus far is a somewhat cryptic Instagram post of some daredevil cycling exploits from his youth, which says: "Born a Meeke…We were always prepared to put it on the line. The sun will rise again tomorrow. Thanks for the cheese."
What next?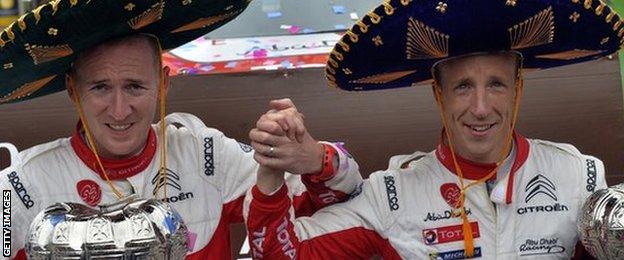 For the rest of this season his options appear limited although it's not clear whether he is now effectively a free agent or has just been stood down from driving duties.
At the minute, the door looks shut at Toyota, who have two experienced heads in Jari-Matti Latvala and Ott Tanak alongside flying youngster Esapekka Lappi.
Hyundai seems unlikely, who already have one driver too many. Thierry Neuville and Andreas Mikkelsen look secure in their full-time seats with Dani Sordo and Hayden Paddon sharing the third car.
M-Sport Ford, where five-time WRC Champion Sebastien Ogier rules supreme, could be a potential option.
But Meeke turns 39 in July and age may be against him.
The enigmatic Dungannon man is arguably the quickest man in the sport but raw speed is not enough to ensure a genuine world title challenge.
His flat-out approach, allied to a straight-talking attitude, has endeared him to fans and the links to his mentor Colin McRae marks him out as the last of an old-school generation.
McRae and Richard Burns are the only Britons to have won more rallies than him but it remains to be seen whether Meeke is going to get the opportunity to add to his five WRC career wins.
Whatever happens, Meeke and Nagle can be proud of their achievements in rallying's premier class, their 2016 win in Finland a standout highlight. With the nature of his departure, the WRC paddock will be hoping this isn't the end.