Shane Byrne: British Superbike champion 'broke ribs, neck and back' in crash
Last updated on .From the section Motorsport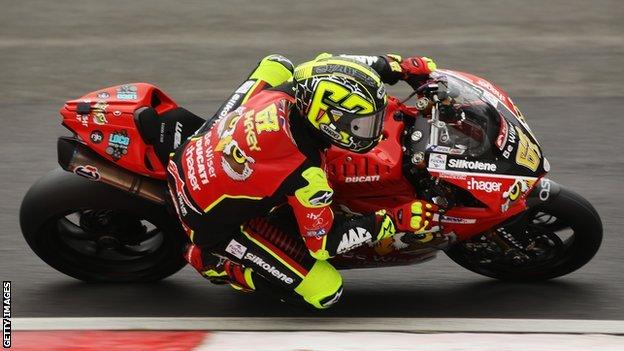 British Superbike champion Shane Byrne says he broke all of his ribs, his neck and four vertebrae after crashing during testing in Norfolk last week.
Posting on social media, the Be Wiser Ducati rider, 41, said paralysis had been a "major issue and concern".
"The one at question from my surgeon after seeing my X-rays was how on earth are you not paralysed," the Englishman added.
After the crash, Byrne's team posted on social media that he would have surgery and "make a full recovery".
Superbike Championship organisers said he was briefly unconscious on the track after the crash at Turn 3.
"I have two bruised lungs, all of my ribs fractured, four broken vertebrae, a broken neck in two places, broken septum, collarbone, multiple other back fractures," Byrne said on Saturday.
"[The] operation to fix the back and neck ran obvious risks of paralysis potentially coming back in the mix.
"Fortunately the op went very well. I'm now pretty sore and beaten up but a rehab and recovery programme always starts the instant a crash ends.
"It's a long road ahead but for once I got a great start."
Six-time champion Byrne is the most successful rider in British Superbike Championship history, with no other competitor having won more than three titles.
After three rounds of the 2018 championship, two-time defending champion Byrne is third in the overall standings after winning one race at Brands Hatch in April.
The 2018 Superbike Championship continues at Snetterton in June.