Isle of Man TT: Dan Kneen's father wants Tyco team to compete
Last updated on .From the section Motorsport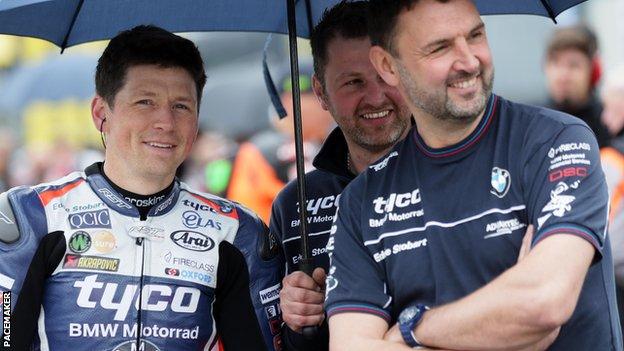 The father of Isle of Man rider Dan Kneen has urged the Tyco team to carry on competing at the TT races - just hours after his son's fatal crash.
Kneen, 30, died from injuries sustained in a Superbike qualifying crash at Churchtown on Wednesday.
Richard Kneen said his son loved racing and would have wanted Northern Ireland-based Tyco to "crack on".
"Dan lived for his racing and wild horses wouldn't have torn him away from it," he said on Facebook.
"He was in his element and loving it."
Tyco later announced they would continue to compete in this year's race after meeting with the Kneen family.
In a statement, the team confirmed they hoped to honour the rider by taking part: "Following an early morning team meeting and discussion with the Kneen Family, TAS Racing has decided to continue at this year's Isle of Man TT Races out of respect for Dan with the blessing of the Kneen family.
"Being a proud Manxman, Dan loved nothing more than to compete at his home event in front of an international audience, and as Dan would have articulated himself, we will 'crack on' for the remainder of TT 2018 and aim to do him proud."
Kneen, who made his debut on the TT mountain course 10 years ago, set his fastest-ever lap of the same circuit on Tuesday night at 132.258mph, to lie third fastest in qualifying for the Superbike event.
Tyco's other rider is Michael Dunlop from Ballymoney in County Antrim, a 15-time winner at the TT.
"My thoughts are for (Dan's partner) Leanne and my other son Ryan, and our whole family," Mr Kneen added.
"Let's think of the happy times with Dan and smile when you think of him. Dan would want us to be strong and for the Tyco team to crack on."
Mr Kneen also wished injured competitor Steve Mercer a full recovery.
The 37-year-old from Maidstone, Kent, was in a Liverpool hospital being treated for injuries sustained when he was struck by a course car on its way to Kneen's accident.